'Gilmore Girls' Is Headed to Netflix So Here Are 15 Episodes We Can't Wait to Rewatch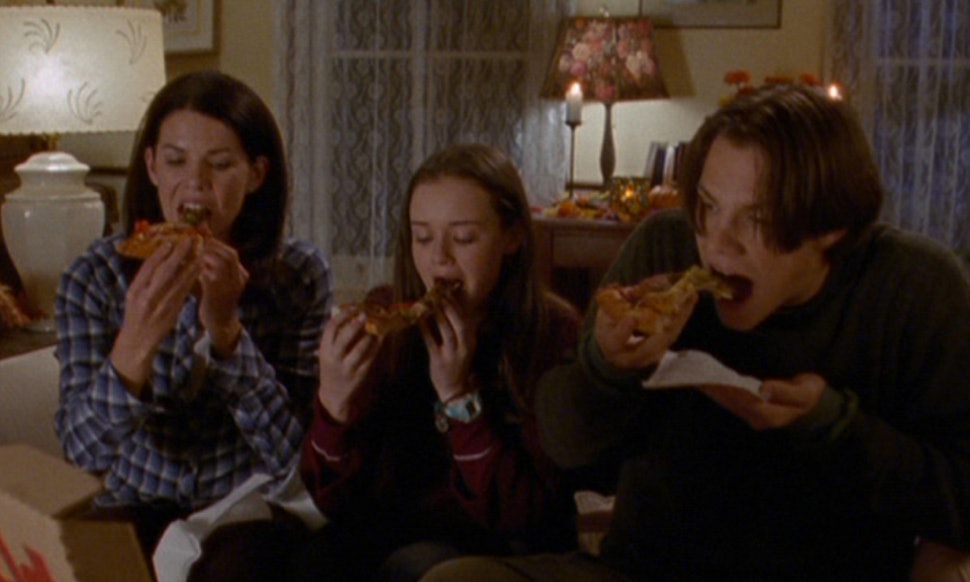 It might not be reasonable to become as excited about an addition to Netflix as I was made today. But this is an important development, people: Netflix is adding Gilmore Girls come October. ARE YOU READY?
Fun fact: I already own all of Gilmore Girls on DVD, largely thanks to the friends and family who just wouldn't stop gifting it to me until I had it all. I am grateful to them and to my collection. But I have always pined for Gilmore on Netflix. And now it's happening. Imagine: The luxury of being able to just open a tab and quickly navigate to a favorite scene, a favorite reference, a favorite episode. Here are the episodes we can't wait to rewatch.
Please abide me by cueing up "Where You Lead" while we walk through this together.
Images: Warner Bros.
"They Shoot Gilmores, Don't They?"
A dramatic break-up! Period costumes! Luke and Lorelai discussing love. Also RORY AND JESS RORY AND JESS RORY AND JESS.
"Raincoats And Recipes"
You might want to skip past the dreaded Rory/Dean storyline here, but LUKE AND LORELAI. "WILL YOU JUST STAND STILL?"
"Luke Can See Her Face"
You know which one this is. LUKE CAN SEE HER FACE. Also a renaissance wedding. Also THEY SLEEP WITH THE ZUCCHINI.
"You Jump, I Jump Jack"
Logan's a divisive Rory Gilmore boyfriend (aren't they all?), but this is one of the show's best episodes.
"The Festival Of Living Art"
This episode won (*sob*) the show's only Emmy, for makeup Outstanding Makeup. Also Kirk gets way too into playing Jesus.
"I Can't Get Started"
Wedding! Baby Mama drama! Jess comes back! Also vintage Melissa McCarthy at her best.
"A-Tisket, A-Tasket"
Peak Dean-Jess fighting, some great banter, and two of the show's most memorable 'ships (Luke/Lorelai, Rory/Jess) having picnics together.
"Love, Daisies, and Troubadors"
First season finale. A proposal, lots of daisies, giving in to love, and general Gilmore revelry.
"The Deer Hunters"
Chilton drama and some great Max/Lorelai stuff. Rory's blow-up at the end is also classic.
"Christopher Returns"
Chris is another one of those divisive characters on this show, but there's no doubting he's important to the mythology. This episode's the first we really see of him, and watching him stroll through Stars Hollow's actually pretty fun. Now if he'd only let go of Lorelai before Season 5 and erase Season 7 from my mind completely.
"That Damn Donna Reed"
Rory dresses up like a '50s housewife and does buttloads of research on why Donna Reed was a secret feminist icon. Also Luke totally thought Lorelai was booty calling him.
"Kiss And Tell"
Rory and Dean's first kiss and their first date (with Lorelai). This show was really good at the whole first love awkwardness thing.
"Wedding Bell Blues"
It pains me to put this on here because this episode's MADE OF PAIN, but it's also just a really great episode. There are break-ups and fights, sure, but it's Gilmore dynamics at their most complex and interesting.
"Written In the Stars"
Heal yourself from Luke and Lorelai's break-up by rewinding to their first date.
"The Reigning Lorelai"
Emily Gilmore as a drunken broad will forever be marvelous.
"Rory's Birthday Parties"
Stars Hollow is still a place I'd kill to live in. Oh to be as beloved as young Rory Gilmore.