1D's New Song Is Kind of Terrible, Admit It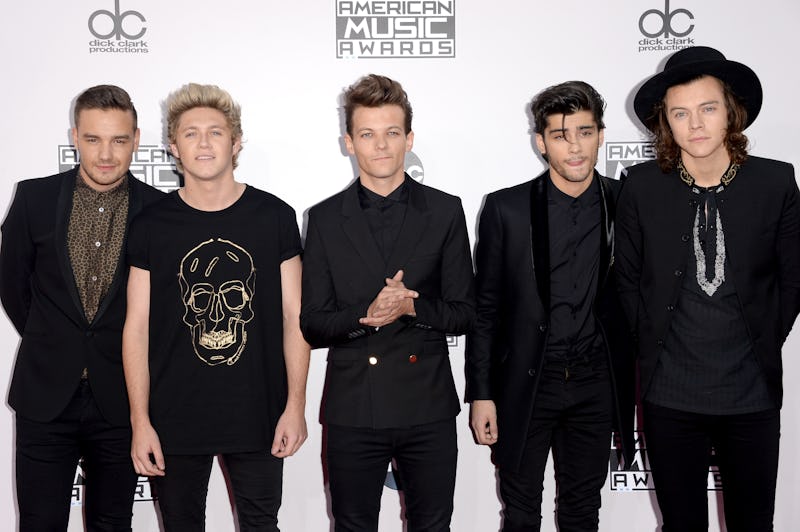 Jason Merritt/Getty Images Entertainment/Getty Images
The guys of One Direction just keep on winning. According the band's record label, Columbia Records, One Direction's new free song "Fireproof" was downloaded 1.1 million times in the 24-hour period following its release on Monday. Billboard notes that it's difficult to find a comparison for this number because big acts so rarely give away music for free (U2 being the most recent exception), but to put things into perspective, the typical free single of the week in the U.S. iTunes Store only moves about 300,000 downloads. That's pretty impressive, on 1D's part.
So, even though they've released three albums in the last three years, the world still hasn't gotten enough One Direction. People just want more! The massive success of "Fireproof" is probably a good sign for the band's upcoming fourth studio album, FOUR (due out Nov. 17), in terms of sales — but I'm really glad that it's not the lead single.
That's right, although "Fireproof" is the first song we've heard from FOUR, Billboard confirmed on Wednesday that it's actually not the album's lead single — it's just a freebie designed to tide fans over until the real deal arrives. And it's a good thing, too! "Fireproof" is boring, bland, and actually kind of terrible. I hate to be a Negative Nancy, but I need to speak my truth.
Band members Liam Payne and Louis Tomlinson co-wrote "Fireproof" with Jamie Scott, Julian Bunetta, and John Ryan — three dudes who worked on a lot of songs on the group's last album, Midnight Memories. This revelation coupled with the song's overall crappy-ness leads me to believe that it was probably a Midnight Memories leftover — a song that nobody wanted or remembered until some brilliant label executive was like, "We need to give something away for free, something to drum up a little excitement..."
*She stumbles upon "Fireproof" lying on the floor of a dark, dingy recording studio, covered in pieces of chewed gum and hair.*
"Heeey, what about this piece of total and complete sonic garbage??" And the rest is history. "Fireproof" may have gone on to be downloaded 1.1 million times, but I won't stand for its BS. No ma'am, not today.
1D member Niall Horan promised us that the band's new material is "edgy," and I will not be satisfied until I hear some damn edge! I want to listen to something new and exciting — not something that's going to put me to sleep! Don't get me wrong, I have faith that the guys will ultimately deliver, I'm just feeling a little...what are the words? Hurt and betrayed? Yes, I'm feeling a little hurt and betrayed right now. But I'll get over it. Probably.
Prepare yourselves: FOUR's real lead single could be dropping any day now.
Images: Getty Images