9 Stylish Sportswear Pieces That You Can Wear To The Office, Because Having a 9 to 5 Doesn't Mean You Can't Be Trendy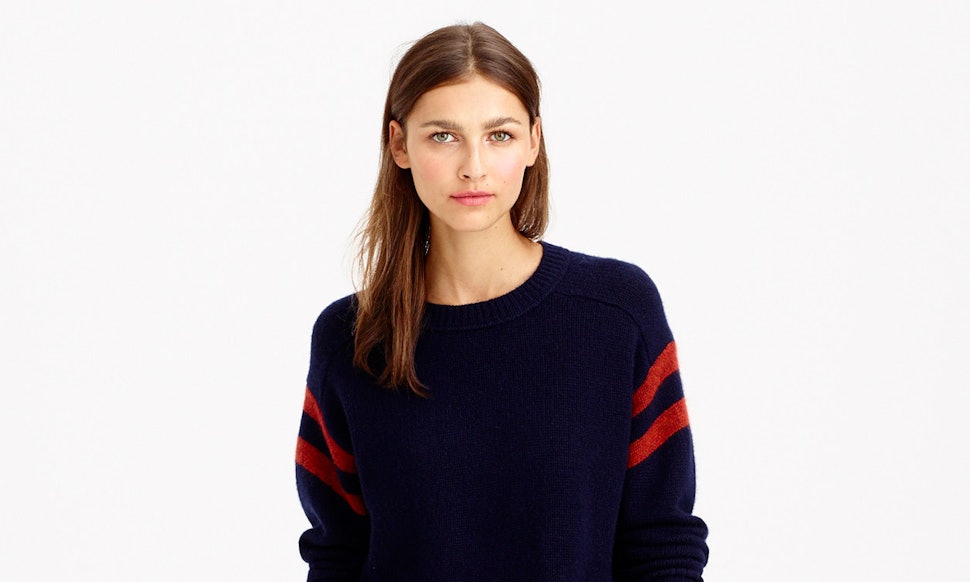 This fall's athletic trend may be fantastic in theory — until your boss tells you it is not work appropriate. But what fun are silken sweatpants, bright sweater, mesh tops, and letterman jackets if they're simply sitting in your closet? If you're a card-carrying U.S. Open fan, spend your weekends playing soccer in the park, or simply believe racing stripes are the greatest fashion invention since the midi skirt, here are nine pieces that are on-trend and office-appropriate.
Sporty Pleated Skirt
This demure, knife-pleated skirt gets a sporty kick with a black and white racing stripe at the waistline, making it ideal for the office or an after-hours pick-up game.
Taylor Sports Waistband Pleated Woven Midi Skirt, $44, Boohoo
Stripe-Accented Shirt
For those who work in a more conservative environment, it is impossible to go wrong with a white silk button down (even if it is embellished with navy stripes at the collar and cuffs).
Equipment Brett Shirt With Contrast Bright White/Peacoat, $159, Equipment FR
Racing Stripe Dress
The easiest way to get around an anti-athletic gear office dress code? Wear a slim sweater dress with subtle white piping along the side.
T by Alexander Wang Mohair Jersey Long Sleeve Dress With Twist Drape, $250, Alexander Wang
Cashmere Varsity Stripe Sweater
No one will fault you for rocking the athletic trend if you do it in navy and crimson cashmere — and that's a promise.
J. Crew Collection Cashmere Sweater in Varsity Stripe, $238, J.Crew
Formal Sweatpants
Slouchy sweats are made instantly more elegant when made with silky twill.
DWP Brody Pants, $187, Shopbop
Piped Slit Skirt
If you feel a bit daring, try this beige piped-slit skirt by Zara. The length and shade are conservative enough to make up for the piece's sportier elements.
Zara Tube Skirt With Slit And Piping, $79, Zara
Lime Green Crewneck Sweater
The vibrant lime shade and crewneck design of this sweater say "athletic chic," but the slim fit and demure silhouette give it office-appropriate status.
A.L.C. Margo Sweater, $345, Saks Fifth Avenue
White Mesh Top
Wear this mesh JOA top with a white or cream camisole, and you're left with a look that evokes the feel of activewear without appearing sloppy.
JOA Check Organza Shirt, $75, Revolve
Lace Bomber Jacket
Bomber jackets are in for fall, and if you want to try the trend at the office, a version rendered in pastels and lace will make it elegant as opposed to inappropriate.
Rebecca Taylor Textured Bomber with Lace Sleeves, $575, Shopbop