This Is The Last Living 9/11 Rescue Dog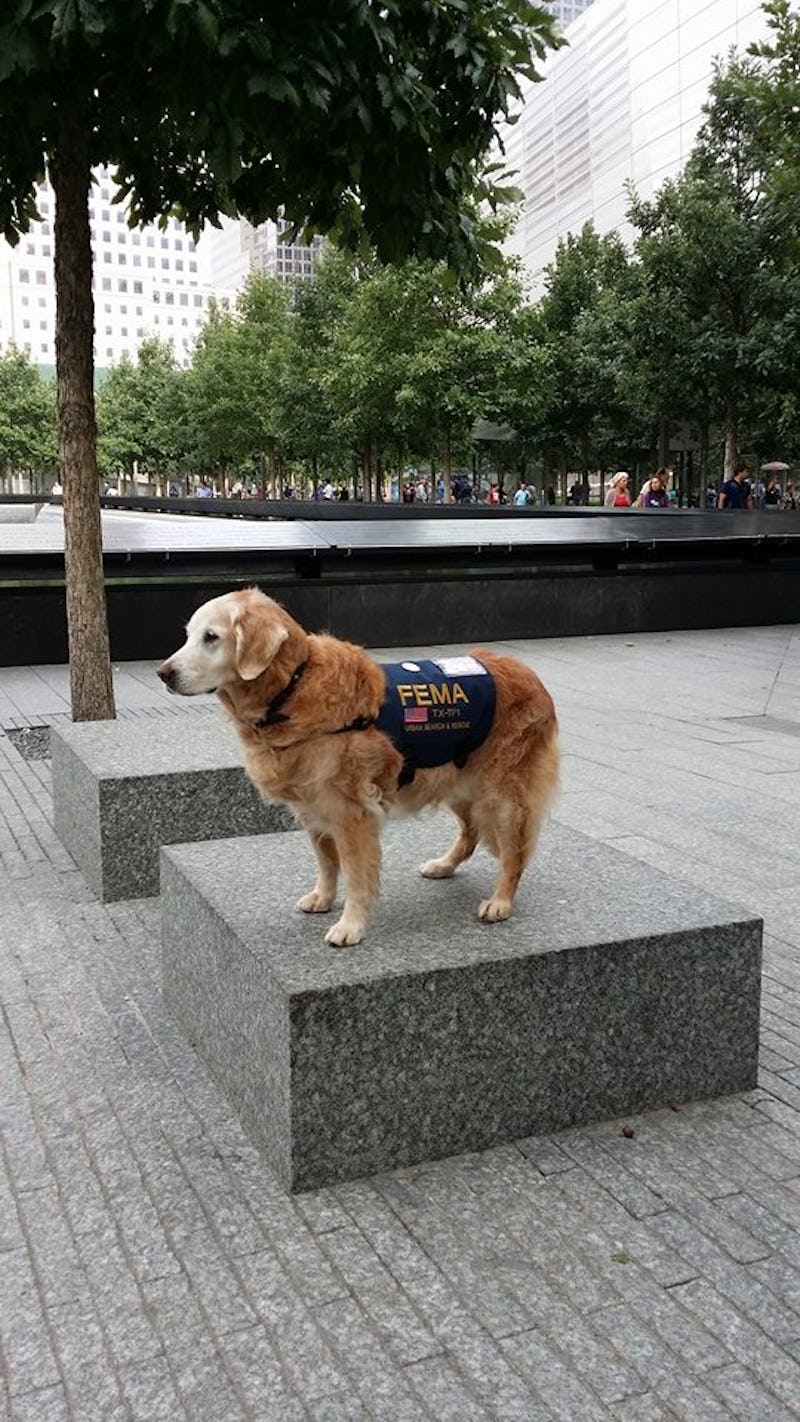 Bretagne was just two years old when she traveled to Ground Zero from Cypress, Texas, to search for survivors of the terrorist attacks on the World Trade Center. The golden retriever, now 15 years old, is the last living 9/11 rescue dog who searched Ground Zero. On the 13th anniversary of that fateful day, Bretagne once again traveled to New York — her first time back since 2001.
Accompanied by her owner and handler Denise Corliss, and NBC's Tom Brokaw, Bretagne returned to the site of Ground Zero this week. Except now, the site is home to a museum and a monument — not the pile of rubble that Corliss and Bretagne remembered . "Seeing this kind of took my breath away a bit, similar to how the pile was the first time I saw it," Corliss told Brokaw. "It's so calm and peaceful now, unlike the chaos of before."
According to The New York Daily News, Corliss got Bretagne in 1999 and began training her for search and rescue missions. The training was tough — about 20 to 30 hours a week. The pair entered the Texas Task Force 1, a search and rescue squad authorized for national disasters, in 2000.
9/11 was Bretagne's first task as a rescue dog. Unfortunately, her job there was more to search than to rescue. "I really believed we could find somebody — anybody! — if we could just get to the right void space," Corliss told NBC.
In the years following 9/11, Bretagne has been deployed to other major disasters, including Hurricane Katrina. Bretagne retired from rescue duties a few years ago, but she continues to work as a service dog for young children with special needs.
"She still has this attitude of putting her paw up and saying, 'Put me in, coach!'" Corliss told NBC. "She absolutely loves it."
After nearly a decade of search and rescue service, Bretagne is being honored with the 2014 Hero Dog Award from the American Humane Association. A teammate of Bretagne and Corliss told the animal association:
In remembering her first deployment at the World Trade Center, there are images of her going to where she was directed to search, the unknown, the chaotic environment. But even then, she knew who needed the comfort of a dog, which firefighter needed to hold her close and stroke her fur
Images: Texas Task Force 1/Facebook, Screenshots/Today Show