7 Things Paris Hilton's New Dog Is Probably Smaller Than — PHOTOS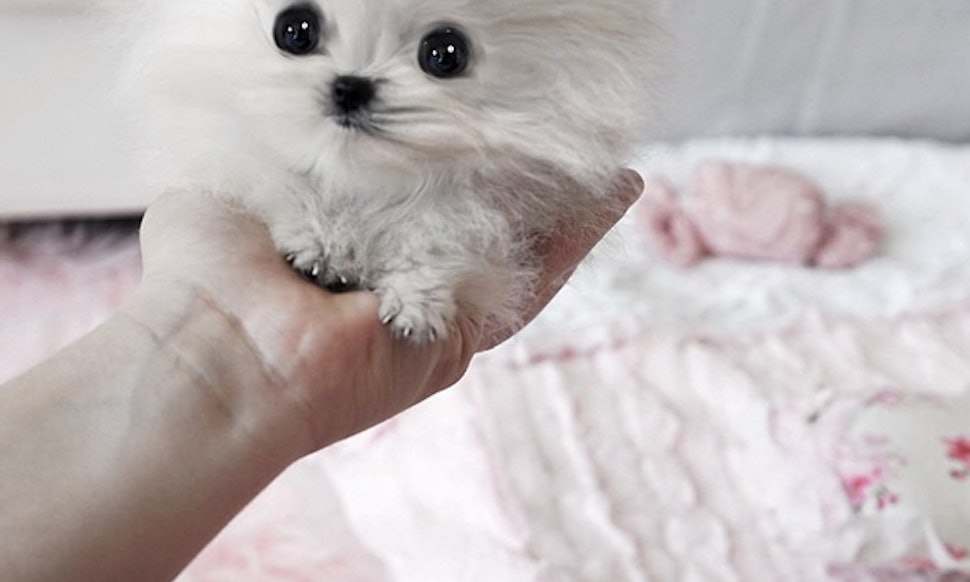 Breaking, very important news: Paris Hilton has a new dog, and he is officially The Cutest Thing Ever™. Meet Mr. Amazing, the world's smallest Pomeranian. Reportedly, 5-month-old Mr. Amazing weighs only 11.6 ounces and is only 2.5 inches tall. HE'S TWO. INCHES. TALL!!! The cuteness meter has been shattered by a whole new level of preciousness. This dog is just unreal. Those giant eyes! The fluffiness! AAAAaaahhhhhh!! Mr. Amazing is being flown in from a specialty breeder and he will probably be very famous on Instagram very soon.
TMZ reports that Mr. Amazing is en route to Los Angeles, where he will likely find a home in Hilton's purse or luxury dog house. He is so impossibly small that I don't even know how he goes about his daily life.
Just to emphasize how ridiculously tiny Mr. Amazing really is, here are a few things that are definitely (probably, possibly) bigger than Hilton's new puppy.
Images: Paris Hilton/Instagram; Kim Kardashian/Instagram; Cara Delevingne/Instagram; Miley Cyrus/Instagram; Lady Gaga/Instagram; Lindsay Lohan/Instagram; Lily Allen/Instagram
Kim Kardashian's engagement ring.
Baby North West
One of Cara Delevingne's eyebrows.
Her spectacular, lustrous eyebrows.
Miley Cyrus' tongue.
Lady Gaga's hair.
One of Lindsay Lohan's freckles.
Mr. Amazing is just a giant freckle of cuteness.
This koala on Lily Allen's head.