These Before & After Burlesque Photos Are Awesome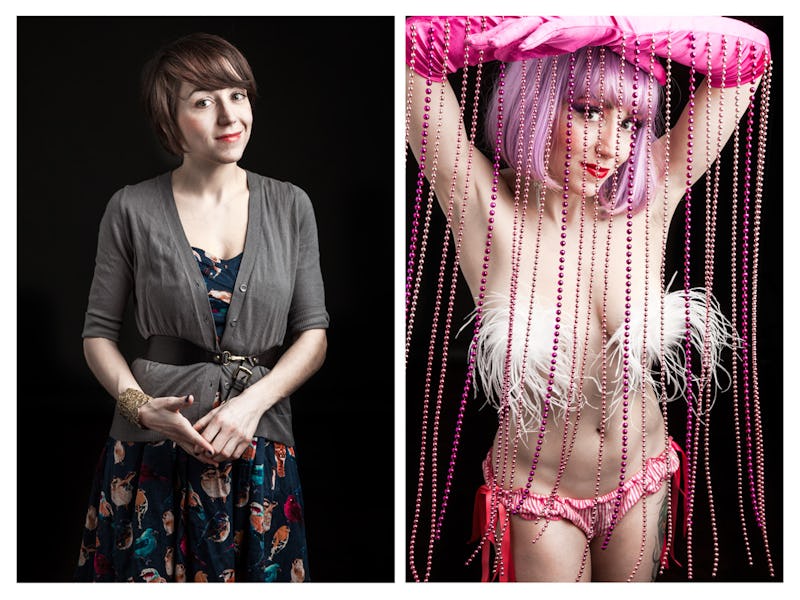 Tassels and pasties and boas and bras — oh my! The decadent world of burlesque has offered a break away from the mundane and ordinary for hundreds of years now. A risqué theatrical performance back from the glitzy and gritty years of Vaudeville, the burlesque of today is now a full-fledged art form that can be gender-bending and incorporate elements of dance, striptease, comedy, and even politics. But what every burlesque performance hopes to convey is a sense of empowerment experienced by the performer, and hopefully by association, the audience as well. In his series, Burlesque, photographer Sean Scheidt has managed to capture that exact sense of empowerment that can be found within the wonderland of burlesque and the power of transformation it offers to those who fall down the rabbit hole.
Inspired by a video of Judy Garland stumbling and mumbling around during a dress rehearsal, Scheidt became infatuated with the transformation that occurs onstage. "A few hours later she was just on and amazing. She had transformed completely for the stage. I saw this exact transformation backstage during the burlesque show," he says in an interview with HuffPost UK.
Scheidt's series of photographs aims to capture just that, as his side-by-side portraits reveal the simple human behind each performer. The unassuming person you pass on the street on the left, the larger-than-life burlesque character on the right.
"All of the subjects, both girl and guy, reacted a bit differently but I think I was most struck by at first a slight timidity among most being photographed. But then quickly followed by a willingness to open up to me on a very personal level. I think I noticed this the most because a lot of these performers I had until then only seen perform onstage. A place where they are in complete control."
Scheidt's portraits allow viewers to witness the meekness in some of the performers that exist before they don their hair, makeup, and lavish costumes, and shows that burlesque and performance art can mask that inhibition and reveal the exhilarating persona that lies beneath. In a break away from possibly mundane jobs or otherwise "normal" lives, these artists can step onstage and cast away insecurities and transform into someone else — maybe someone else they want to be, maybe someone they already are. Either way, to these transformative performers, that special kind of confidence is only brought on through the magic burlesque. The magic that only a dash of glitter and a good helping of feathers can provide. Check out some of these awesome photos below, then head over to seanscheidt.com to see the rest.
Images: Courtesy Sean Scheidt Photography