Poetry to Consider Reading on Your Wedding Day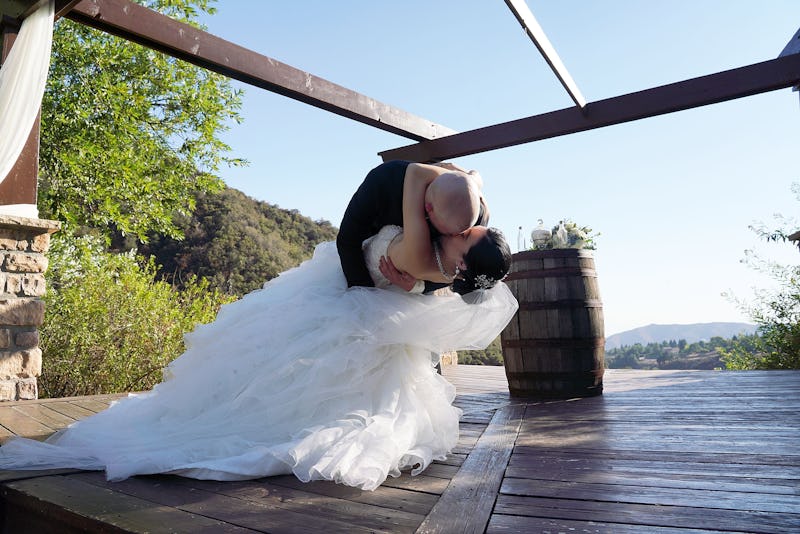 JC Olivera/Getty Images Entertainment/Getty Images
As I was searching for poems on the Internet and my bookshelf, I sadly realized that most poems about marriage are either a) depressing, or b) super-, super-corny. Poems are often written as ways to cope with the massive overload of feelings we have, so I can understand why sad marriage poems exist. But the amount of cheesy, terrible wedding poems that exist is just scandalous. It's as though love poems can only exist as these rhymy, mushy-gushy entities. And they don't; love poems that grapple with weddings, marriage, and love can be gorgeous and honest. Delicate and rough. Funny and serious. Political and feminist. Sexy and sweet. There are just so many great poems about love that don't have to be horrible.
So here are a handful of them. With the exception of E.E. Cummings and Rainer Maria Rilke, all of these poems are super contemporary — so no John Donne, no waxing poetic Romeo of Romeo and Juliet. No "roses are red / violets are blue" because that is so Valentine's Day circa our childhood. Just snippets of love, marriage, and relationships in its most honest forms. Read these as inspiration for your wedding, or for whenever.
From "Marriage" by Dan Gerber
When you are angry it's your gentle selfI love until that's who you are.In any case, I can't love this anger any morethan I can warm my heart with ice.I go on loving your smiletill it finds its way back to your face.
From "True Confessions Variations" by Lynn Crosbie
I thought ofmy husband as a cowboy, when his leather facecreased and stretched. in college I later learnedabout kings, and ancient gods who sent their lovein showers of coins, golden, manna from heaven.
"Marriage" by William Carlos Williams
So different, this manAnd this woman:A stream flowingIn a field
From Poets.org
From "The First Time" by Mindy Nettifee
"grass pushes though sidewalk cracks just to kiss your feet.maybe no one has ever told you, but the heart is a metaphor.yours is growing so strongyou'll have your rhythm back any day now — loving like rumours spread. dreaming like lunatic spacemen jump from their suits. living like you never forgot how."
From Sleepyhead Assassins by Mindy Nettifee
"It's all I have to bring today" by Emily Dickinson
It's all I have to bring today—This, and my heart beside—This, and my heart, and all the fields—And all the meadows wide—But sure you count—should I forgetSome one the sum could tell—This, and my heart, and all the BeesWhich in the Clover dwell.
From: Poets.org
From "Love Letters" by Lynn Crosbie
I drew him an elaborate list one day,of pink champagne bottles and support girdles,and wrote my first words. I left them with hisletters, on the back of our marriage certificate, I think they were my finest, I said, DearHank, the end. and right away began working ona longer book.
From "If Briefly" by Allen Edwin Butt
"the onlyconstant in my life.
When I was young I would have thoughtI would regret it, to have wrappedmyself up like a caterpillarin a man—but if my name, like his,is Vogelsang, then I must half recedewith him& only half of me is Julia. And that fades too.
So call me, ifyou call me, Mrs. Vogelsang."
From "Rhapsody in Plain Yellow" by Marilyn Chin
Say:
I love you, I love you, I love you, no matter your race, your sex, your color. Say: the world is round and the arctic is cold. Say: I shall kiss the rondure of your soul'sliving marl. Say: he is beautiful, serenely beautiful, yet, only ephemerally so.
From "I Fall to Pieces" by Amy Gerstler
"Kiss me again,breathe you little ills and weird fear into me.Erase my name, leave me speechless."
From The True Bride
From "somewhere i have never travelled, gladly beyond" by E.E. Cummings
(i do not know what it is about you that closes and opens;only something in me understands the voice of your eyes is deeper than all roses) nobody,not even the rain,has such small hands
From Poets.org
From "Love Song" by Rainer Maria Rilke
How can I keep my soul in me, so that it doesn't touch your soul? How can I raise it high enough, past you, to other things? I would like to shelter it, among remote lost objects, in some dark and silent place that doesn't resonate when your depths resound.
From Hitched