What Else Has 'Mean Girls' Star Jonathan Bennett Been In Before 'DWTS'? Aaron Samuels Has Been Busy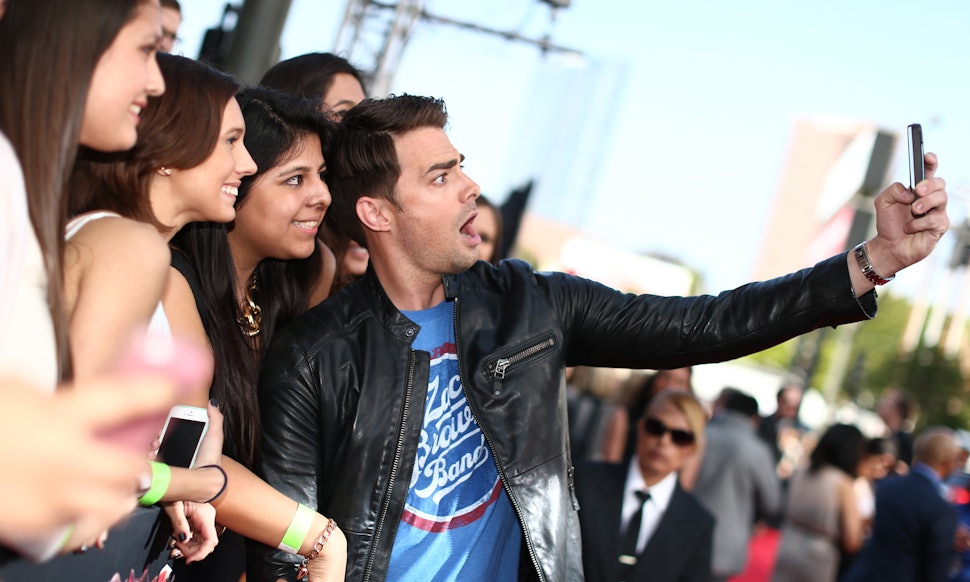 Christopher Polk/Getty Images Entertainment/Getty Images
He gets it... his hair looks sexy pushed back. Or, so reads Mean Girls star Jonathan Bennett's Twitter bio. The DWTS newbie and longtime actor who played the most relatable heartthrob ever gets that people see him as not much more than Aaron Samuels. And, while he's done plenty of other things, he's never done anything else that reached Mean Girls level. But here's hoping his stab at a comeback goes a little better than some other Tina Fey School of Smart Humor alums.
Bennett is hopping on board the DWTS train this season, and he seems like the perfect fit. He's well known by a particularly passionate branch of the voting audience, he's charming, good-looking, and (probably) not a bad dancer. And I'm fairly certain that if we want the best for Aaron Samuels, we want the best for Jonathan Bennett. Here's what he's been up to between vying for Cady Heron's heart and (hopefully) tango-ing his way to Mirrorball victory.
'Veronica Mars'
Right around the time Jonathan starred in Mean Girls, he showed up on another teen favorite, Veronica Mars. But instead of the grool-est kid in school, he was that kid in school that maybe accidentally joined a cult in "Drinking the Kool-Aid." Don't worry, Mars was on the case.
Image: WBTV (Screengrab)
'Cheaper By the Dozen 2'
The first thing I remember seeing Jonathan in after his hunky Aaron Samuels debut was Cheaper By the Dozen 2, starring the unbeatable combination of Steve Martin, Hillary Duff, and a pre-Twilight/pubescent Taylor Lautner. Jonathan replaced Ashton Kutcher as Piper Perabo's husband (here's hoping he never finds his way to Two and a Half Men).
Image: 20th Century Fox
'The Dukes of Hazzard: The Beginning'
The nail in the resealable coffin of Jonathan's career was probably this little TV movie. Three years after Mean Girls, there was still a good chance of Jonathan segueing his strong big screen debut — and even stronger eyebrows — into a great TV show, or more hunky movie roles… but TV movie was probably not the way to go. And Sean William Scott-replacement-in-a-blonde-wig was definitely not the way to do it.
Image: Warner Bro. (Screengrab)
'Math Bites' with Danica McKellar
After that, you probably didn't see Jonathan in much, even though he was definitely out there working. Just mostly in movies called Divorce Invitation, and Misogynist, that you were probably weren't dying to see. But Jonathan has also always taken a page from the Mark-Paul Gosselaar handbook by never acting like a bigger deal than he was, but also remembering the role that made him. Early this year he showed up in Danica McKellar's cool-nerd math videos from the Nerdist network, and I have to assume she got him hooked up with DWTS. Thanks, Danica!
Image: Nerdist (Screengrab)
And now...'Dancing With the Stars'
"Do not destroy the moneymaker," is Jonathan's (and the world's) message to his DWTS pro, Allison Holker. He may not have been the star of our screens we once thought he would be, but Bennett is about to be part of your weekly routine every Monday night. And if he and Allison dance as well as they banter, we might just be looking forward to many, many weeks of Carrie Ann Inaba telling him his hair looks sexy pushed back. He knows, Carrie Ann… he knows.
Image: Rick Rowell/ABC
Just generally being a good person
I vividly remember the day two years ago when my best friend who was studying to be a Physician's Assistant in rural Tennessee texted me to say, "There is a rumor going around that Aaron Samuels is one of the practice patients in our clinical test today." And the rumor was true: her text was immediately followed up with a picture of Bennett and one of her classmates posted to her PA school's Facebook page. Apparently, Bennett's family friend is a professor at the university and thought it would be fun if he filled in while he was visiting his family in Tennessee; and Bennett thought, "Sure, I'll give these kids the best clinical test of their life."
Note: My friend did not get Bennett as her practice patient in her clinical test, and she's never said it, but I think it's her number one regret in life. Either way, he most definitely has our DWTS votes.