Priscilla the Mini Pig's Got More Style Than You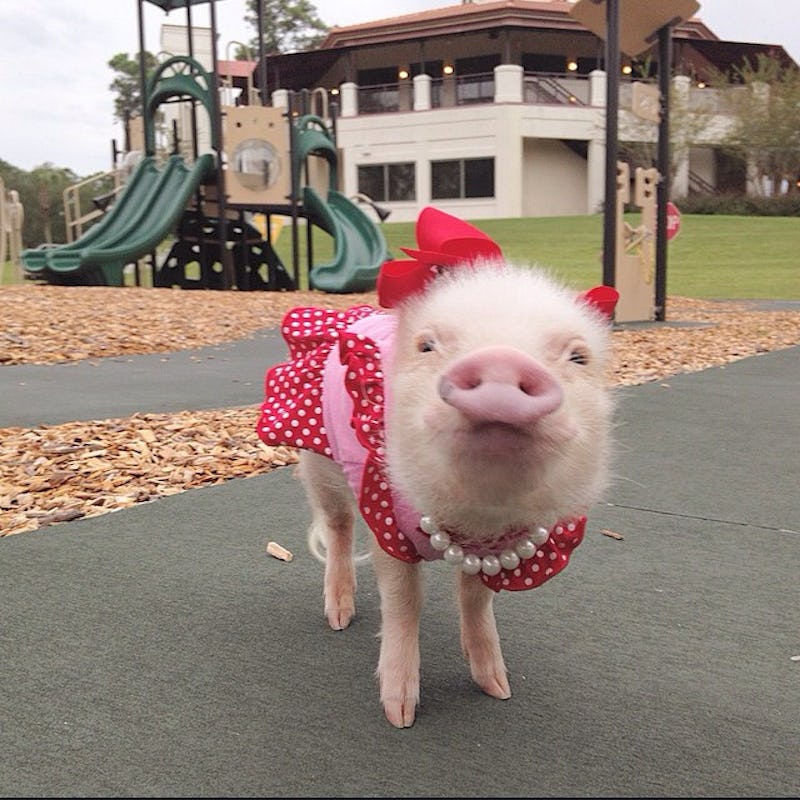 If you thought you were looking pretty darn cute in your outfit today, I have some bad news — there's a pig (yes, an actual pig) who is out there workin' it better than all of us. Priscilla the Pig is taking over Instagram with her adorable outfits and, although we have her owner to thank for this brilliance, she's got style.
Priscilla hails from Ponte Verde Beach, Florida, where the street style pickins are presumably slim, but there's no doubt she'd be a star anywhere. She is, quite literally, the cutest animal that I have seen in a looong time. And her fashion sense is nothing to oink! at (okay, that was bad. Forgive me) — she puts old school Tavi Gevinson to shame.
If you choose to look at one mid-day Internet pick-me-up today, make it Priscilla the Pig's Instagram account or Facebook page. The pig generally poses alongside her brother pig Poppleton (who is this amazing pet owner who comes up with the best names for mini pigs?!) who is equally as adorbs, if not as sartorially advanced. You should really check out the little animal bloggers yourself, but in case you're pressed for time here's a selection of the sweetest Priscilla the Pig pics.
1. Tiffany Blue Tutu
Move the fuck over, Audrey Hepburn.
2. Apple Skirt
Seasonally appropriate skirt-wear.
3. Signature Pearls
Blair Waldorf is a clear influence here.
4. Bikini
Priscilla knows that every body is a bikini body.
5. Back to School
I mean, she's wearing a camouflage backpack. Too cute.
And a guest appearance from Poppleton
DAT TIE. Where can I find one of those for myself?
Images: prissy_pig/Instagram