UO Kent State Sweatshirt Now Available on eBay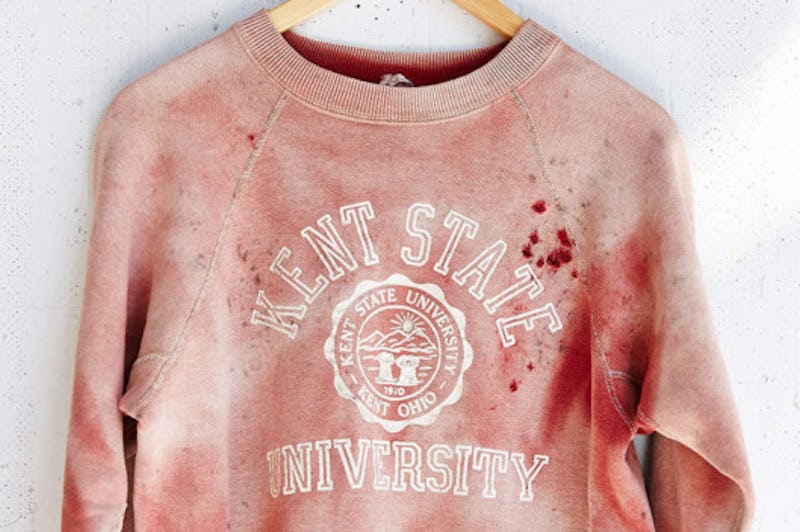 Of all the fashion retail controversies we've seen, this one might take the cake. Urban Outfitters recently offered a vintage Kent State sweatshirt with one tiny problem: The shirt looked like it was covered in blood and bullet holes. Just a brief history class refresher, in 1970, four unarmed Kent State students were shot and killed by the Ohio National Guard while protesting Nixon's decision to invade Cambodia during the Vietnam War. Needless to say, the Urban Outfitters sweatshirt was not well received.
Urban quickly pulled the sweatshirt from its website and issued an apology. But someone must've shelled out the $129 they were charging because, according to New York Magazine, the blood-spattered Kent State sweatshirt is now for sale on eBay for a "Buy It Now" price of $2,500. Yes, you read that correctly. I can't imagine why someone would spend over two grand on such a morbid item of clothing, unless they're shooting for the Most Insensitive Costume award at a Halloween part next month. The Vintage Kent State Sweatshirt would make them a shoo-in for that particular honor.
NYM reports that "50 percent of the profits from the eBay auction will go to the Southern Poverty Law Center," so, um, I guess that's something? But it doesn't make up for how terrible this is. However short-sighted the decision to sell the sweatshirt, Urban was right to remove the item once it realized customers where furious. To have it reappear on eBay for an astronomically higher cost adds insult to injury.
Urban released the following apology on Monday morning via its Twitter account:
Urban Outfitters sincerely apologizes for any offense our Vintage Kent State Sweatshirt may have caused. It was never our intention to allude to the tragic events that took place at Kent State in 1970 and we are extremely saddened that this item was perceived as such. The one-of-a-kind item was purchased as part of our sun-faded vintage collection. There is no blood on this shirt nor has this item been altered in any way. The red stains are discoloration from the original shade of the shirt and the holes are from natural wear and fray. Again, we deeply regret that this item was perceived negatively and we have removed it immediately from our website to avoid further upset.