Mindy & BJ Have A Whole Lotta History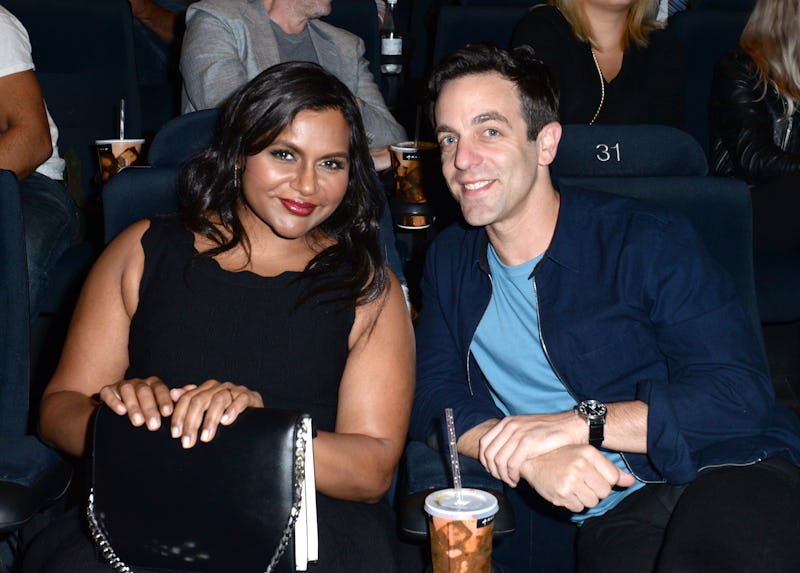 Vivien Killilea/Getty Images Entertainment/Getty Images
It must be really weird to be part of a Hollywood "It Couple" — especially if you haven't actually date in years. Ryan Gosling and Rachel McAdams are still falling prey to it and maybe always will. In the TV star/writer spectrum of things you've got Mindy Kaling and BJ Novak, whose relationship both platonic and romantic has inspired much speculation, coverage from many outlets, and the rapt attention of a whole lot of strangers. And unlike Gosling and McAdams they can't stop talking about each other.
Kaling, who's doing the rounds promoting the third season of The Mindy Project like the super fancy professional lady that she is, has brought up — or had brought up to her — her relationship with Novak multiple times over the past week. I guess this is what happens when you've got a best-friendship as noted as theirs is.
Kaling and Novak have known each other for a long time, too (since the beginnings of the American Office), and Kaling's comments span both the highs and the lows of their relationship. The lows, it would seem, came around the break-up of their romantic relationship when Kaling was 24. As she recalled to Howard Stern in an interview Monday:
He broke up with me. It was years ago that that breakup happened.
And things got real dark, apparently:
[I was] so sad. Not angry, sad. [...] That was the hottest I've ever looked because I stopped eating. When I get depressed I stop eating. So I was so miserable and so beautiful. I remember waking up, barely getting out of bed and we worked together but I didn't care. I had no makeup on...I was real miserable.
Things seem to be going well for the both of them these days, though — both separately and as a pair. They've both spoken highly and at great length about their dynamic. Here's what Novak said about Kaling when he wrote the When Harry Met Sally-inspired episodes of The Mindy Project :
I don't know that it's a direct analogy, but it's definitely inspired by our relationship. We are pretty inseparable best friends with a lot of chemistry ourselves, and we're not dating. Whenever we date anyone else, I think there's a period where the person is very skeptical of our friendship — 'Everyone seems to think you two might be a couple, and I don't mean to get in the way. Are you sure you're not dating? Are you sure you're not going to end up dating?'
And on their days at The Office:
We would fight constantly at The Office. We would have friendship-ending fights about four times a day, and start the next day as best friends again.
They've both referenced their frequent fights many times — here's what Kaling told HuffpoLive Friday (and yes, it's much more positive than the direct aftermath of their break-up):
My relationship with B.J. is very close, and I adore him and I don't know anyone funnier than him. We're also very combative, in a way that I really like. [...] He's the closest thing I have as the person who, in success, can still tell me the stuff that other people don't want to tell me.[...] It's lucky because he's my best friend and my biggest fan and also the person I have the most knock-down, drag-out fights with. I get a lot of theatricality with our relationship.
Many people seem pretty invested in them getting together romantically, but I gotta admit: I'm definitely content just watching their cool dynamic play out from afar. They're soupsnakes, after all.