'Sisterhood of the Traveling Pants' Cast Looks Exactly the Same As They Did in 2005 — PHOTOS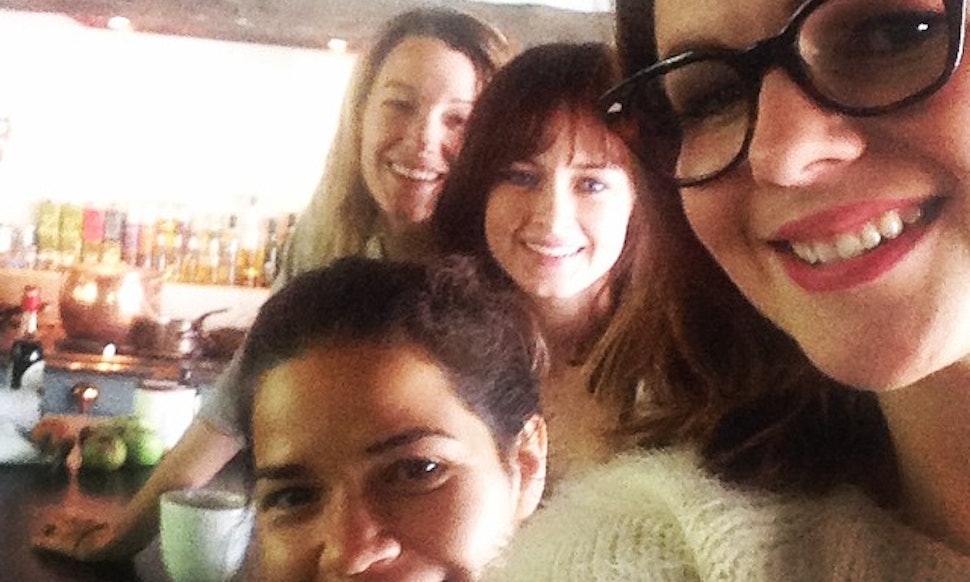 Guys. Guys. The cast of The Sisterhood of the Traveling Pants reunited the other day by going to brunch... TOGETHER. I know, my heart is so full, too. There's just something about seeing them together after all these years that makes the Sisterhood feel a little more authentic, ya know? And how precious is it to see all the ladies so grown up and successful?
But, there was something I noticed about this group shot: while SotTP fans have most certainly aged (thank God), apparently the cast hasn't. Seriously, just look at that photo. It makes it difficult to be nostalgic when everyone looks exactly the damn same with a few, minor modifications. Things have happened since the years 2005 and 2008, after all, but you wouldn't know it by looking at these ladies.
Images: amberrosetamblyn/Instagram; Giphy; thesisterhoodofthetravelingpants/Tumblr; halpertjames/Tumblr
Today
No, friends. This isn't a behind the scenes picture from the first Sisterhood movie. This is the cast today AS FULL GROWN ADULTS.
Amber Now
Here's Amber Tamblyn in 2014.
Amber Then
The only difference here is the front bangs and blue streaks. Otherwise, I think Tamblyn just time traveled.
Blake Now
She's just flawless. It isn't fair.
Blake Then
It's a felony level crime to not have an awkward stage, right?
Alexis Now
Alexis Then
I was going to make a Tuck Everlasting reference but, I think Bledel's immortality speaks for itself.
America Now
Ferrara may actually look younger here...
America Then
…Than she does here. OK, so she's gotten a better hairstyle since 2005. But aside from that, how do we get those impeccable jeans?!
Get it? Genes/Jeans...
Nevermind.
Group Throwback
Too much adorable for one picture. I need to go cry in my Sisterhood books that are still neatly stacked in my bedroom while looking for the cast's secret to everlasting youth.
And again
I need to get me a magical pair of pants, ASAP.