An 18-Year-Old UVA Student Is Missing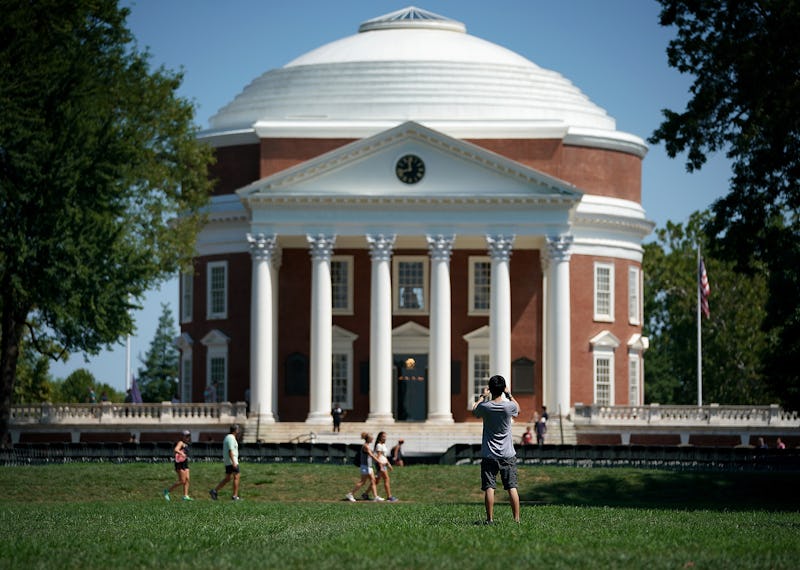 Win McNamee/Getty Images News/Getty Images
University of Virginia student Hannah Elizabeth Graham has been reported missing after failing to return from a night out in Charlottesville, where the university is located. According to her friends, Graham was last heard from at 1:20 a.m. on Saturday, when she sent a text message to a friend saying she was lost on her way to an off-campus party.
Friends said the 18-year-old was last seen near the Camden Plaza Apartments, which houses students just a few blocks from the UVA campus. She may have also been on Main and Wertland Streets in Charlottesville. However, local authorities have received more than 60 tips that may have more insight on Graham's whereabouts.
The events of Graham's Friday night are still being pieced together. According to ABC News, Graham was at a pizza shop, and then attended a party with another student. Graham left that party around midnight and started to walk to her off-campus home alone. Somewhere on that walk, she changed her mind, deciding to attend a party where some of her friends were.
But Graham never showed up. Her last text said she was lost near Wertland Street.
Authorities also have surveillance images of Graham in her apartment hallway the night she disappeared. She was wearing black pants and a black crop-top with mesh cut-outs. She's five feet, 11 inches, and has light brown hair.
NBC 4 Washington reported that authorities searched the Charlottesville area on Sunday evening with bloodhounds, but no traces of Graham were found. Police then searched an area east of the UVA campus on Monday, and resumed their search on Tuesday. However, the search has been temporarily put on hold because of new information.
Loren Thomas of CBS19 in Charlottesville said via Twitter on Tuesday afternoon that the search may be shifting to new areas, and the Charlottesville Police Department reportedly has surveillance footage of Graham walking outside a pub on Grady Street.
A native of Alexandria, Virginia, Graham graduated from West Potomic High School, where she participated in the school band. Her former band director, Stephen Rice, told NBC 4 Washington that Graham is "not the kind of kid that would just go on a road trip and disappear."
University of Virginia President Teresa A. Sullivan released this statement on Monday:
The members of the University of Virginia community are united in our deep concern for Hannah Elizabeth Graham, who is missing and has not been in touch with her family or friends since early Saturday morning. The Charlottesville Police Department is investigating this case, and has been conducting an extensive search since learning of Ms. Graham's disappearance. Our University Police Department was notified of the report Sunday evening, and this morning has contacted all students, faculty and staff to make them aware of the situation. Our Office of Student Affairs has provided this information to parents as well.