We've Failed You, Judy Greer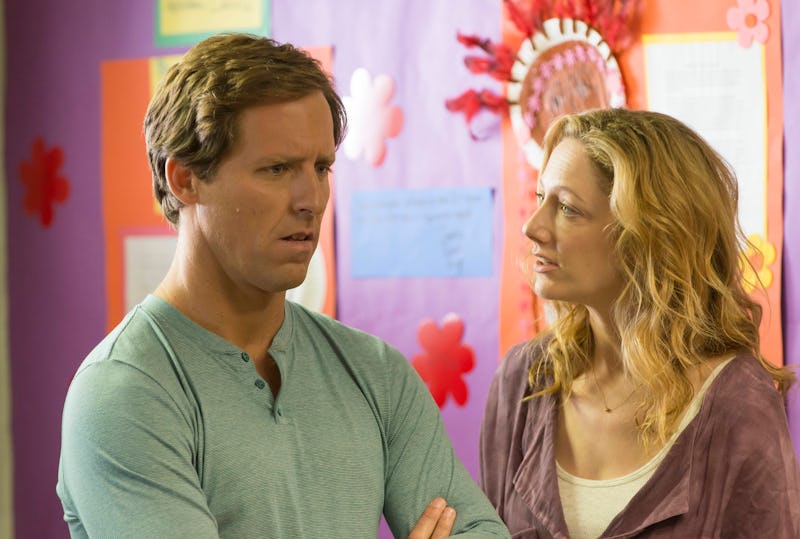 Nat Faxon deserves a break. He's a funny guy and a talented writer — he co-wrote The Descendants and The Way Way Back with Jim Rash — and he deserves a TV show that lasts more than one season. (It's only fair — Rash is starting his sixth season as Dean Pelton on Community.) Ben and Kate was pulled after 13 episodes. So, as Married finishes up its first year on September 18, it's time to ask: Will Married get a Season 2 on FX?
So far, the network has made no official announcement. Though FX has renewed other summer shows, like The Strain, it's been silent on comedies like Married and its schedule partner You're the Worst. But with a little critical thinking, we can gaze into our crystal ball and come up with a prediction. Warning: It's not great.
Unfortunately, Married 's first-season ratings have been all over the place. It started off with more than 1.1 million viewers, saw its viewership drop for the next two weeks, and then developed a serious yo-yo pattern after that. It still hasn't stabilized. On September 4, the show had its lowest ratings ever (.4 million viewers), and the very next week it had its second-highest after the premiere (.7 million viewers).
To me, that's bad news. It signals that Married hasn't really found a dedicated audience. People might tune in here and there, if nothing else is going on, but the numbers of people who will sit down to watch it week-to-week are inconsistent. It's enough to cause some concerned stares.
Even if the numbers bounce back to their highest post-premiere levels and stay there, Married still doesn't have a ton of viewers. I did a highly unscientific number-crunching — i.e. eyeballing its ratings against other FX comedies that have had multiple seasons on the network — shows like Archer, Wilfred, The League, or It's Always Sunny in Philadelphia. Without doing any real averages, it looks like those other shows regularly get more than a million viewers, or a shade under that (.8 or .9 million). Married hasn't hit a million viewers since its premiere. It's more likely to do somewhere around half that number.
Sometimes networks make exceptions for low-rated shows that are critical darlings. Again, Married clocks in as so-so. Critics aren't over the moon with Married, the way they are with You're the Worst. It's tough to find anyone who's offering more than love for the two fantastic actors themselves:
Married also has a pretty average reaction on Rotten Tomatoes, with a 56 percent fresh rating. Those aren't bad numbers, but they're not really a hearty enough critical endorsement to be a saving grace for the show. It makes for one sad Halloween.
Of course, you never know — networks can always surprise you. (Nobody, for example, expected AMC to renew Halt and Catch Fire, but a second season is on its way.) There's also the possibility that FX will shift the series over to FXX, which has made a big deal about specializing in comedy. (It kinda doesn't make sense that Married and You're the Worst didn't start on FXX to begin with, right?) But, if you're just reading the ratings and the reviews for right now, it looks like this marriage is doomed.
Images: Prashant Gupta/FX (3)