9 Incredible Women You Should Get To Know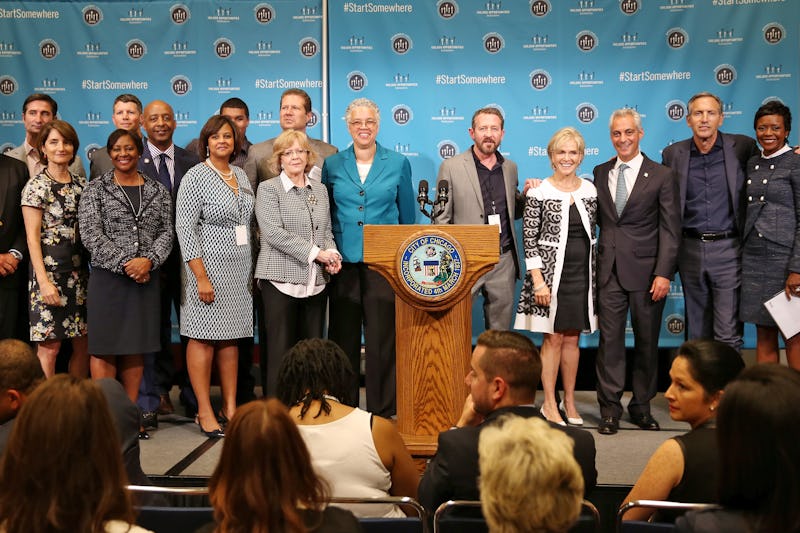 Tasos Katopodis/Getty Images Entertainment/Getty Images
Established with the mission to "support creative people and effective institutions committed to building a more just, verdant, and peaceful world," the John D. and Catherine T. MacArthur Foundation does just that every year by awarding its MacArthur Fellowship — or Genius Grant — to the brightest individuals in their respective fields. This year's Genius Grant recipients include nine women who have helped to make the world more "just, verdant, and peaceful" in big ways.
Each year, the MacArthur Foundation selects between 20 to 40 recipients who have shown extraordinary creativity in their respective fields, whether it's poetry, biology, technology, or humanitarian work. According to the site, the fellowship is based on a "no strings attached" model, meaning the foundation does not require specific products from the fellows, and their progress will not be monitored during the term of the fellowship.
The Genius Grant supports "people, not projects." The fellowship is not an award for the individuals' past accomplishments, it explains, but rather "an investment in a person's originality, insight, and potential" so that he or she may better reach that potential "for the benefit of human society." That is what I call, well, ingenious.
Meet the nine women who received the 2014 Genius Grant. Oh, and get ready to be blown away...
Danielle Bassett
A physicist and Skirkanich Assistant Professor of Innovation at the University of Pennsylvania's Department of Bioengineering, Danielle Bassett has been awarded for her "standard-setting work" on the interconnections within the brain, finding that an individual's ability to learn is connected to the brain's network organization — or how well parts of the brain connect to others.
Alison Bechdel
Known for her comic strip Dykes to Watch Out For and her graphic memoir Fun Home: A Family Tragicomic, cartoonist Alison Bechdel's style of storytelling transcends the typical illustrated narrative and presents a conceptual depth that is reshaping the graphic genre.
You may be familiar with the Bechdel Test, which asks if a film features at least two women who talk to each other about something other than a man. It was named after Bechdel because one of her characters in Dykes to Watch Out For first mentioned the idea in 1985.
Mary L. Bonauto
Bonauto is a civil rights lawyer and the Civil Rights Project Director for Gays and Lesbians Advocates and Defenders (GLAD) — not to be confused with GLAAD. Her legal prowess and long-term strategies have been instrumental in attaining equal rights for same-sex couples. She's made history again and again, including the first federal court wins in challenging DOMA, which set the example for the landmark case that ultimately struck the law down in 2013.
Tami Bond
Environmental engineer Tami Bond uses her expertise in engineering in tandem with public policy to examine the global effects of black carbon emissions. She's working toward a standardized and integrated global framework for how black carbon emissions are made and interpreted and applying this information to global climate models.
Sarah Deer
Sarah Deer is a legal scholar and women's rights advocate focusing on Native American women. Her knowledge of tribal and federal law has been crucial in developing and implementing legislation to protect Native American women from domestic and sexual violence, including the landmark The Tribal Law and Order Act of 2010 and the reauthorization of the Violence Against Women Act in 2013.
Jennifer L. Eberhardt
A social psychologist and associate psychology professor at Stanford University, Jennifer Eberhardt has used her complex and deeply nuanced studies on racial coding and categorization to develop models with law enforcement for better policing. Given the recent events in Ferguson that have shaken the country to its core, Eberhardt's work is especially crucial in our racially fragmented society.
Pamela O. Long
Pamela Long's bio on the MacArthur Foundation site states that the historian is literally "rewriting the history of science" — how many people can say that? Long studies the interactions of European scientists, architects, and engineers of the early modern period through the analysis of textual, visual, and archival materials. Her analysis of the connection between artisans, scholars, scientists, and engineers has been groundbreaking.
Ai-jen Poo
Labor worker and director of the National Domestic Workers Alliance in New York, Ai-jen Poo is championing for more federal and state protection for home-based care workers, who are excluded from most labor laws in the U.S. Poo has spearheaded a worker-led movement as well as legislation campaigns, which led New York State to enact the Domestic Workers' Bill of Rights in 2010.
Tara Zahra
Tara Zahra's empirical examination of 20th-century Europe explores the concepts of nation, family, and ethnicity under a sociohistorical lens combined with extensive archival studies. Zahra's books, Kidnapped Souls: National Indifference and the Battle for Children in the Bohemian Lands, 1900­–1948 and The Lost Children: Reconstructing Europe's Families after World War II, both look at the political and social landscape of modern Europe through the theme of family and children.
Images: MacArthur Foundation