Dogs Who Are Trying Out Fashion Week Hair For You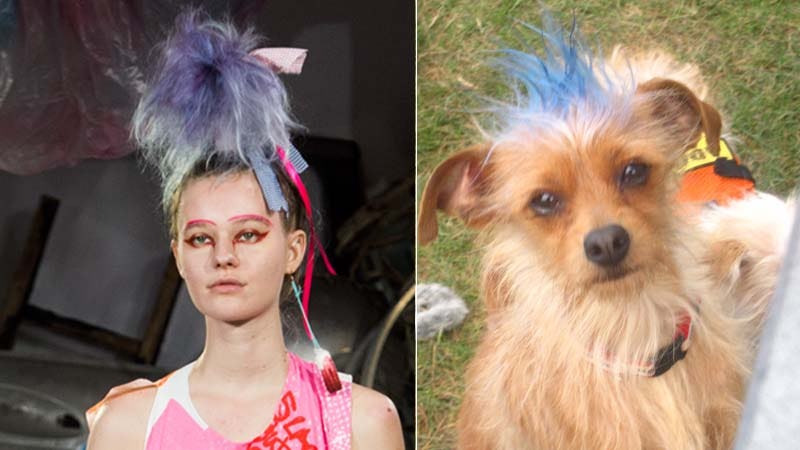 This brand certainly isn't borrowing inspiration from your grandma's clothes. Edward Meadham and Benjamin Kirchhoff took a risk with the Meadham Kirchhoff Spring 2015 line during London Fashion Week. Inspired by all things colorful, the duo paired oversize neon blazers with knee-high playful socks in their "Reject Everything" line. And it worked! Part punk rock, part vintage, 100 percent awesome. We'll take it.
Sure, the clothes made quite a statement, but what about the hair? Let's be honest — hair and makeup can be just as important as the clothes themselves. They tried it all, from braided in-your-face (literally) bangs to '80s messy ponytails in just about every color. And why not? After all, a simple knot bun or sleek blowout just wouldn't mesh with all that fringed leather and yellow eye shadow. Hey, whatever fits with the brand.
Turns out, a few dogs were so inspired by the punk rock look that they went straight to the salon to try the looks out on themselves. The resemblance is almost uncanny. Seems as if dogs can rock Fashion Week hair better than we mere humans can. *Cries internally.*
Check out these seven pooches who can totally rock the Meadham Kirchhoff dos.
1. This In-Your-Face Look
The red. The bangs. It's the new look.
2. Updo Girl
The higher the hair, the closer to heaven.
3. The Most Punk Rock Pigtails I've Ever Seen
Because the pink makes them less edgy.
4. Sky High
Nailed it.
5. Beret? Oui, Oui.
The facial expression is even on point.
6. Orange Is The New Black
So is this pup.
7. Blue, Because One Color Wouldn't Be Enough
Her spirit animal.
Images: Getty