Wondering What To Do With All Your Old Magazines?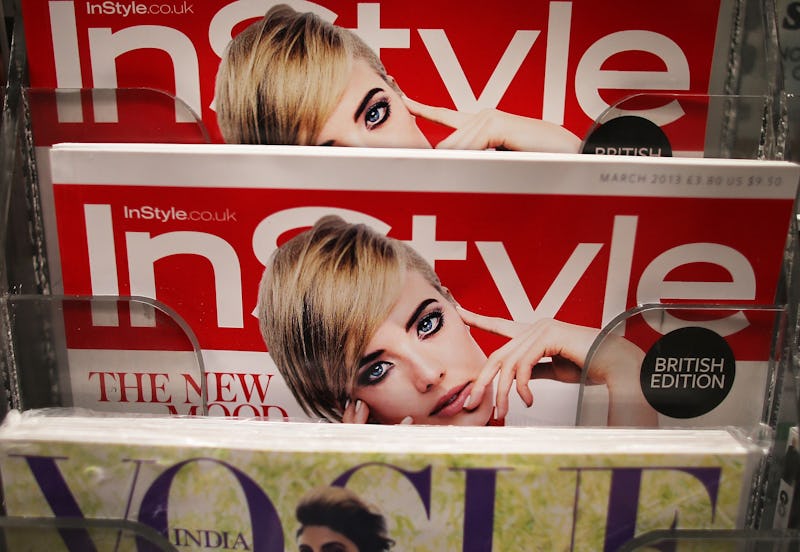 Mario Tama/Getty Images News/Getty Images
If you're anything like me, then you most likely have piles and piles of old (sometimes unread) fashion magazines laying around. Day by day they continue to sit in your apartment gathering dust, but you can't get yourself to throw them out. Of course you can't. Because you know, deep down (despite the fact that you look like a person on his/her way to an episode of Hoarders) that someday you are going to use those magazines. For what, you don't know. But oh, you will. The day will come. Or at least that's what you keep telling yourself. But it never really happens. Things get in the way. There's Netflix and sleeping in on the weekends and going to Chipotle and a million other super important things that simply take precedence over cutting out inspirational quotes and images from your favorite fashion magazines to paste up on the wall. But maybe we just haven't had enough direction, you know? Maybe we just need a little inspiration to create something magnificent out of all those hoarded magazines.
1. Flowers
If going to the store and buying flowers has ever proved too boring or expensive for you, then simply craft your own flowers out of magazines. Yup, it's possible.
2. Origami Bows
So. Darn. Cute. I suddenly want to give gifts to everyone. Origami Magazine Bow Tutorial
3. Envelopes
Sending mail just became 100 times cuter, thanks to homemade magazine envelopes.
4. Artwork
The options are pretty much endless here, but be creative with it and use Pinterest wisely, and you will be golden. DIY Magazine Artwork Tutorial
5. Bedside Table
So chic.Bedside Table Inspiration
6. Inspiration Board
This example is part artwork, part inspiration/vision board and I am obsessed. Inspiration Board
7. An Actual Collection Of Some Sort
For the past couple years, I've been trying to buy a copy of Vogue from every country I visit. Having an actual, specific collection of some sort may help you value your magazines more... and buy/hoard a few less. Collection Inspiration
8. Garlands
Garlands: the trendiest, cheapest wall decoration to come along in forever. Thank you, Pinterest.Magazine Garland Inspiration
9. A Wall Gallery
Fill some frames with your favorite pages and cutouts and voila — you have a chic room.Wall Gallery Inspiration
10. Cake Toppers
Can this get any cuter? Cake Topper Inspiration
11. Boot Inserts
Smart. Easy. Helpful. Boom.Boot Insert Idea