The Perfect Red Lippy For Taylor Swift Wannabes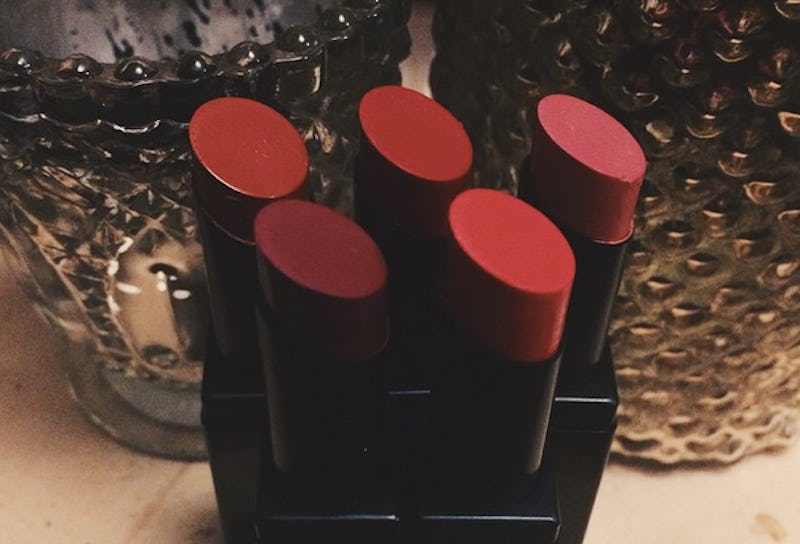 As a basically-lifelong glasses wearer, I don't do much by way of daily eye makeup. If I'm feeling particularly wild and loose on a Saturday night I might draw on some winged liner, but otherwise I strictly stick to bold lipstick to make my face look cooler. Of course, that means I'm all about the matte trend that's been taking over our lipstick tubes for the past few years now. Like everyone else, I love the mod, non-glossy look but hate how dry it leaves my pout, and layering balm or primer underneath just tends to take away from that perfectly un-shiny finish. So, naturally, I was stoked to try butter LONDON's new LIPPY Moisture Matte Lipsticks, that allegedly would give me gloss-free finish without giving me Sahara lips.
Coming in right down the middle of super-luxe lipstick and drugstore brands at $22 a pop, they're definitely somewhat of an investment, but not out of the question for beauty obsessives. They come in 12 very reasonable shades (none of that nearly-black or neon orange stuff), mostly variations on a classic medium red that everyone (I mean it) can pull off.
And yeah, they do live up to their name. The finish isn't as bone-dry-matte as some, but the payoff is a creamy formula that's more akin to a balm than a lipstick. I tested out about half of the shades, from the darkest violet they offer to a pale pink.
From left to right: Abbey Rose, Macbeth, Come To Bed Red, Old Blightly, and Ruby Murray
As far as longevity goes, these aren't the longest lasting lipsticks you'll ever wear. I didn't prime or add liner for my testing period so as to not mess with the true color of each, but they still lasted for about three hours and a cup of coffee. Fine, because the formula was so lovely I didn't care about reapplying.
Like I said, the colors seem pretty universally flattering, but my arm isn't the best canvas to showcase their wearability. Want to see some of the shades on my face? Here we go.
Abbey Rose
Far, far lighter than any color I usually put on my pout, this is a nice rose shade for anyone who's into true pink lipstick. It goes on opaque, which is key for getting a mod-ish vibe.
MacBeth
If you're more into the sheer stuff, Macbeth is a fantastic first red lippy. It's got the opacity of a stain, so you don't have to go full on Taylor Swift...
Come To Bed Red
Unless you want to!! This guy's a true, classic, scarlet shade, perfect for channeling your inner Old Hollywood spirit.
Old Blightly
If you want to go even bolder, try this brick shade. It's the thickest of the bunch, so it provides full coverage with one lone swipe.
Ruby Murray
Still afraid to try purple lipstick? First off: Grow a pair and just do it because it's freaking awesome. Second: If Lorde's creamy deep violet isn't for you, ease into the trend with a silky, sheer formula, like Ruby Murray here.
See what I mean about the texture? It's less true matte and more a demi-matte finish with a touch of healthy moisture. Overall a lovely tube of lipstick, especially if you're looking for more subtle versions of the bold colors that are trending for fall.
Images: Kara McGrath