This Skirt Looks Vaguely Familiar...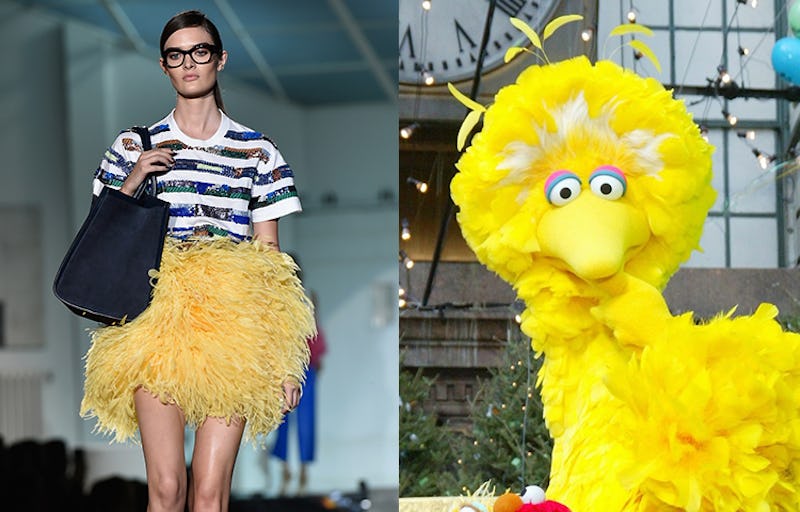 Every once in awhile, a look comes down the Fashion Week runway that reminds the audience of some distant childhood memory. Does a fur-lined coat recall a favorite stuffed animal? A plaid skirt bring to mind a middle school uniform? The quirky and innovative design duo behind Dsquared2 certainly seemed to have adolescent whimsy on the mind when they created their Spring 2015 collection, which hit the runway this week in Milan.
From patterned shorts to polo-inspired tops and glasses galore, the clothing couldn't have been more vibrant. But one skirt in particular stood out, and it was a vibrant yellow, lushly feathered statement of a piece that couldn't be ignored. The model herself appeared to disappear into the yellow haze of the skirt, and were it not for the ensemble's striped top, the outfit might have dissolved into a buttercup cloud. On discovering the look, I immediately knew it reminded me of something, but what? After several moments of racking my brain, I realized that the skirt didn't recall one thing but several, thanks to its peculiar constitution and shape. If this skirt is at all indicative of spring's top trends, it appears that chameleon clothing is in vogue. Read on for a myriad of uses the skirt possesses — as well as a few items it could be mistaken for.
1. BIG BIRD'S FEATHERS
I find it somewhat comforting that even couture designers still rely on their favorite Sesame Street characters for inspiration. In case you're concerned, Big Bird was not harmed in the making of this skirt.
2. A SWIFFER FEATHER DUSTER
If your apartment is looking less than fresh, simply shimmy around in this skirt collecting dust in lieu of utilizing your average Swiffer 360.
SwifferB. Duster, $6.07, officedepot.com
3. A SEA ANEMONE
Natural wonders are the ultimate form of innovation, and this sea anemone seems to have donated its shape and movement to Dsquared2's voluminous skirt. Perhaps it can be used to capture passing debris as well.
4. THE FUR OF A PEKINGESE PUPPY
Who needs a furry friend to cuddle with when you have this skirt? No disrespect to the average Pekingese puppy, but Dsquared2's skirt just might be more plush.
5. A PARTICULARLY FURRY MUPPET
The skirt may be a sunnier shade of lemon, but its fluff clearly has some genetic link to the muppet family.