How Does ISIS Recruit, Exactly?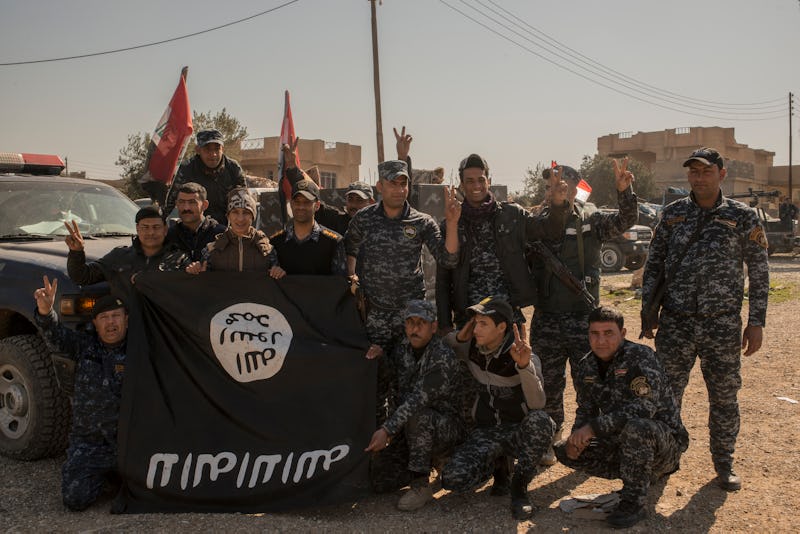 Martyn Aim/Getty Images News/Getty Images
On Tuesday, ISIS responded to Obama's threat of destroying the jihadist group with a threat of their own: a chilling Hollywood trailer-style video. Titled "Flames of War: Fighting Has Just Begun," the video shows footage of previous attacks on U.S. troops in Iraq, ending with "Coming Soon." To bolster that threat, ISIS has upped recruiting, gaining 6,000-plus new members since airstrikes began last month. If one thing is clear about the ruthless terror organization, it's that their recruiting strategies are alarmingly effective. But how exactly do they convince so many to join?
According to the Syria Observatory For Human Rights, which monitors activity in the Syrian civil war, some of the new recruits in Syria include former militants of the al-Nusra Front, an Al Qaeda affiliate in Syria and opponent of the Islamic State. ISIS' ability to convert members of rival terror organizations, in addition to the thousands of citizens worldwide — many who are Westerners and not natural-born Muslims — reflects the extent of its recruitment powers.
From the thousands who flock from Turkey to hundreds from France, the U.K., and Germany, ISIS recruits approximately 20 new members a day, and most of the foreign fighters are between 15-20 years old, according to Abdurrahman Saleh, a spokesperson for the Islam Army. The Syria Observatory estimates that the group has more than 50,000 militants in Syria alone. And it's likely that the numbers are only going to increase.
Here's why.
High-Quality, Effective Videos
By now everyone is familiar with the horrific beheading videos that ISIS has been releasing at regulated intervals since August. As barbaric as they are, they've succeeded in instilling fear in the world and cementing the group's brutal reputation, while showing that they're in control. Then came the slickly produced trailer promising more bloodshed. And most recently, a video was posted on Thursday showing U.K. hostage John Cantlie delivering a propagandist message on behalf of ISIS. Cantlie tells the camera:
I want to take this opportunity to convey some facts that you can verify. Facts that if you contemplate might help preserving lives. I'm going to show you the truth as the western media tries to drag the public back to the abyss of another war with the Islamic State.
Cantlie mentions that the video will be the first in a series of "programs," clearly designed to sway public opinion on the Islamic State and entice prospective recruits.
On top of all this are ISIS' official recruitment videos, which, like any army recruitment video, promises the reward of having a purpose and playing an important role in something larger than yourself — smartly edited with slow-motion action shots. They also aim to address any concern a potential recruit might have.
These videos, which have all had high production quality, sometimes employing multiple cameras, are a far cry from the once-standard homemade segments featuring an older Al Qaeda member talking directly into the camera.
It's Extremely Media Savvy
There is no denying that ISIS employs experienced media and marketing people, who have helped to spread and control its message. In fact, ISIS has an entire media company backing its video production and distribution, the Al Hayat Media Center, which was established in May.
In addition to the well-made videos, the media arm also produces an online English-language magazine called Dabiq that publishes propagandist articles and reports aimed to glorify the Islamic State.
But perhaps the most powerful media tool ISIS has mastered is social media. Its sophisticated social media strategies on Twitter, Instagram, Facebook, and Middle Eastern networks like Dawn have appealed to a generation that live most of their lives online. ISIS has even developed a Twitter app that sends information to the online community and allows ISIS to tweet from users' personal accounts, thereby gaining the ability to spread its message in exponential proportions.
The app, along with hashtag campaigns that help the group's propaganda trend on Twitter, are similar to the PR campaigns of a corporate company. In other words, they're incredibly savvy.
It Knows How To Draw Women In
ISIS makes sure not to exclude potential female militants in its recruitment efforts. Since the group prohibits women from fighting on the frontlines, the group uses other incentives to entice them to join. According to intelligence officials, women recruits are offered "sexual comfort roles" and the promise of a devout husband.
ISIS has even opened a marriage center in Syria where women can register to become the wife of a jihadist. The terror group even gifts couples honeymoons after getting married, but they can only vacation within the caliphate in Iraq and Syria.