Florals?! For Spring?! Yes, Please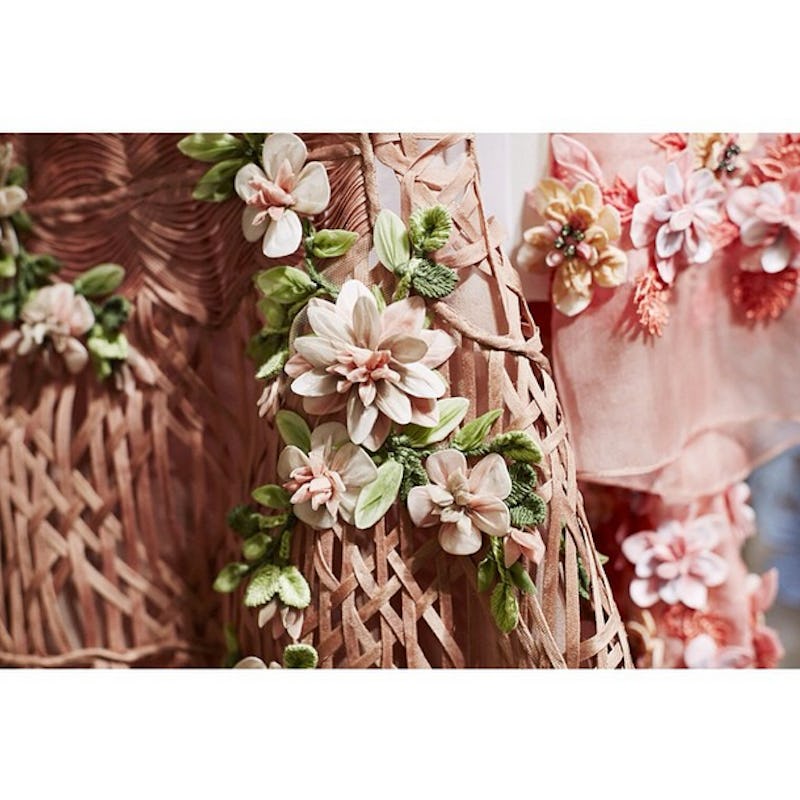 Let's face it: Florals will always be in in some sense of the word. I mean, when you think about it, have they ever really been out? They have a presence in pretty much every era you can think of, from the ornate brooches of the Art Deco period to the small and delicate prints of the '40s, to the starkly-rendered daisies of the mod '60s, right up to now. This time, we're getting a whole new take on flowers — fresh variations on a tried and true theme, if you will: Sheer florals have completely taken over Milan Fashion Week, and if that's what the next big trend is going to be? I'm completely on board.
They were everywhere, from the floaty romantic Titania-esque gardenias of Alberta Ferretti, to the boldly rendered shapes of Giambattista Valli, to the fun-and-funky irises and chrysanthemums of Blumarine — and, if past shows are any indication, you can bet we'll be seeing some fairy princess with an edge taking the stage at Valentino. I'm something of a yes man (or woman, rather) who gets excited really easily, but there was some truly gorgeous stuff walking down the runway this week — so let's take a look!
Blumarine
That middle dress is going to take a lot of chutzpah to pull of (if left unlined), but it sure is gorgeous. I'm also partial to the swingy shift dress on the far right, and that is some ornate embroidery all around!
Giambattista Valli
The more I see, the more I fall in love with Giambattista Valli. I mean, the colors, the weight of the fabric, the fierce eye makeup, the white Swiss dot tights — I love it all.
Gucci
Gucci got in on the look, and added some gorgeous Asian flair.
Alberta Ferretti
It's so romantic, I could just die — and doesn't the lattice work on the far right gown just take your breath away? I can't wait to see these walk the red carpet! (I don't know quite when I turned into an excited little old lady, but I suspect it's been happening gradually over some time).
Images: fashiontomax (2), britishvogue, albertaferretti (2)/Instagram