First Photo of North West Revealed on 'Kris'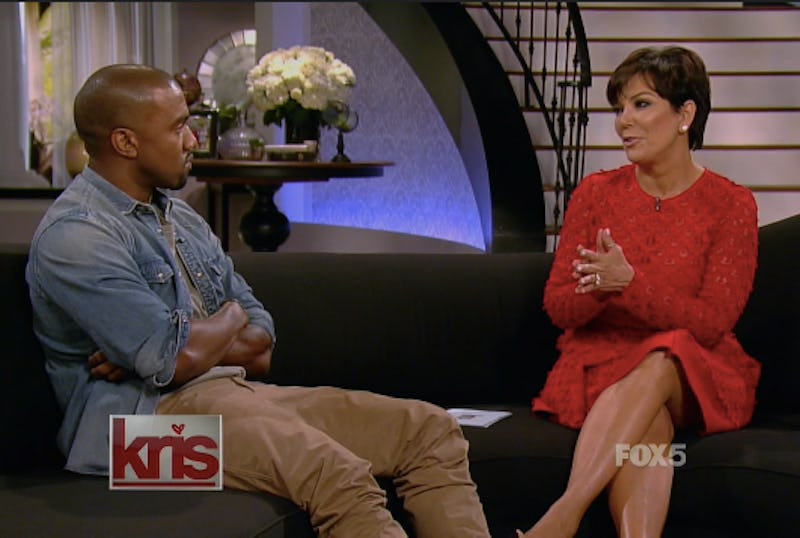 Kanye West went on Kris, Kim Kardashian's mother's talk show, and sat down with the momager for a full hour to discuss how he's misunderstood, how fatherhood has changed him, and how baby North West has his cheeks. With only six minutes left in the episode, Kanye revealed that he and Kim have never tried to sell photos of their daughter and that they felt it was fitting to debut her baby North West's first photo on her grandmother's show. The pic, which shows the adorable Nori looking at the camera over a plain white spit-up cloth (just us who's surprised it's not a brand-name, fancy pants spit-up cloth lined with silk and gold?) and yup, as expected, she's pretty darn cute.
Kris Jenner explained to the audience (who clapped after every damn sentence, it felt like) that Kim and Kanye can't decide who North looks like most. Kim thinks she has her eyes and Kanye's cheeks but that North has a combination of both their lips.
Kris reported that Kim, like every new mom, can't stop trying to figure out whether her daughter takes after her mother or father, but by the looks of things, she's got a winning combination of both parents.
And for the record, yes: it feels weird to be this effusive over anything Kardashian and/or West, but baby North! Those cheeks! Welcome to the world, little one. This may be your first public debut, but honey, just wait. Your reality show North West Takes Daycare is certainly only a few months away.
[Image via Kris]