See Seth Rogen & James Franco Jump Out of a Cake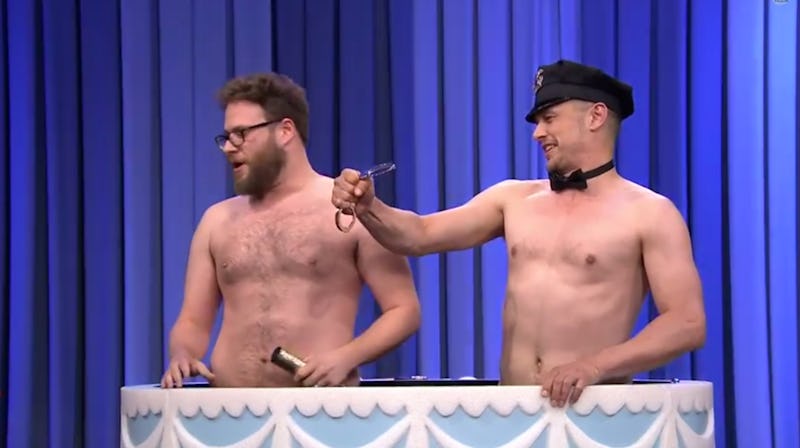 Typically on someone's birthday, it's not quite normal for a person to announce that they're knowingly going to be surprised by their own surprise. But, of course — Jimmy Fallon doesn't exactly have a normal life. On Friday's episode of The Tonight Show, host Fallon not only announced that it was his milestone 40th birthday, but that the entire staff had a surprise birthday gift in the form of a "special guest" for him. And, spoiler alert, it was kind of legendary (as I'm sure most things in Jimmy Fallon's life tend to be): While the entire time everyone was made to believe that a semi-naked Seth Rogen and James Franco popping out of a giant cake for Jimmy Fallon's birthday was the surprise, it was really Stevie Wonder singing happy birthday to him that was his actual present.
LEGENDARY.
The surprise is extremely heartwarming and awesome — because who wouldn't want Wonder to sing to them for their birthday, or any special occasion? — but the best part about this video is Fallon's reaction. Even though he was warned that something would happen, his adorable laughter and "I did not see this coming," are so genuine. Through several exclamations of "Oh my God," and a singular "what's going on," Fallon responds in a way that proves he was genuinely stunned and flattered by the surprise.
Although he initially admits that he didn't think he'd like surprises, it's pretty clear that in the end he was overwhelmed with joy thanks to what his friends and coworkers had done for him. Considering Fallon is rightfully considered one of the sweetest and most humble celebrities out there, I'm glad he had the chance to celebrate the big 40th in style.
Image: YouTube