3 Makeup Looks For Every Bespectacled Situation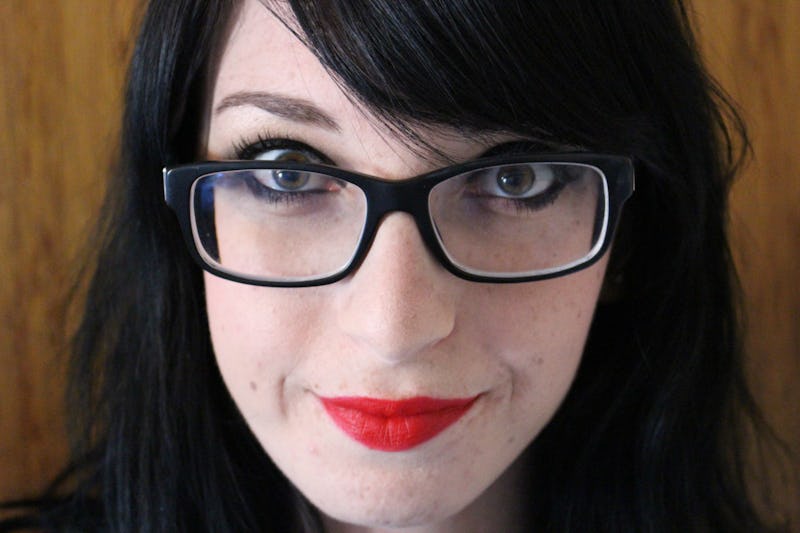 I always wanted glasses so badly. When I was six, I would borrow my grandma's huge '70s frames and saunter around the house with them on, bumping into shelves and walls, probably because all I was seeing was a kaleidoscopic version of life. About a year later, my wish was granted. I got glasses. Only, they weren't as glamorous as I made them out to be, and this was especially true when I started wearing makeup. Not only is putting on makeup for glasses hard when you're quasi-blind, but it's hard to pull off certain looks, because your eyes don't exactly pop out. Your frames do. Cat eye, soft pastel eye-shadows, brown mascara, all of those options don't have the same effect when your eyes are hiding behind glasses.
I dealt with this by doing the same thing everyday for years: mascara, cover-up, lip balm. I never really prioritized makeup because my look would always be "nerdy-cute," and I was OK with that. But, within the last two years, I've had a total makeup renaissance. I got a Sephora card. I started playing around with different products. I started to actually care and put time into my face every single morning. I wanted to do something different, I wanted to have fun, and I was willing to step out of my comfort zone. Mostly, I wanted to figure out what looks stood out the most even behind my Buddy Holly frames.
Here are three looks I've been experimenting with: 1. A Work Look, 2. A Going Out to the Bars Look, and 3. Date Night Look. They're super easy (I'm not a professional, like, at all, so you don't have to worry about complex brush stroke methods or anything), and quick. Basically, I wanted to figure out how to effortlessly wear makeup with glasses. Here are some suggestions:
1. Going to Work
So, the thing about wearing makeup when you're confined to glasses, is that you have to put a lot more emphasis on your eyes if you want it to look like you're wearing anything on them at all. You need to wear darker eyeliner, darker mascara, and shinier eyeshadow. Even though you probably want a toned down look for work, you still need to work some color in, in order for your eyes to pop.
Step one: Wash your face, exfoliate, put on your favorite face lotion.
Step two: Apply a layer of primer, and then foundation.
Revlon Photoready Foundation, $11, Amazon
This is my favorite primer, by Revlon. It's light, it doesn't clog my pores, and it's very comparable to Smashbox primer products (but waay cheaper).
Tarte Amazonian Clay Foundation, $39, Sephora
I just bought Tarte foundation in Fair Beige a few weeks a few weeks ago, and I really like it. As you saw from my sans makeup pic, I don't have naturally amazing skin. It's blotchy, I always have glasses tan lines, I break out, and these things make me sad. I definitely do not #wakeupflawless, so I like something with good coverage that won't cause break-outs. After primer and foundation, pick a powder to set the foundation — I really like MAC sheer pressed powder because it's light and not cake-y at all.
Hooray, even skin!
Step three: Do up your brows; fill them in, and even them out. This is equally as important as anything else, because this will draw more attention to your eyes. After, apply some blush into the apples of your cheeks.
I've been meaning to try NARS Orgasm, but I just can't with the price, so I bough the e.l.f. dupe in Twinkle Pink and I'm all about it. It gives me a super healthy glow, and the shade doesn't take over my face.
elf blush in Twinkle Pink, $3, Target
You can get it at Target for $3!
Anastasia Brow Powder, $23, Sephora
I bought myself Anastasia brow powder (in Chocolate) for my birthday. It's not super cheap, but I like how subtle it is, and how natural it makes my eyebrows look.
Step four: Eyes. Okay, so when I do go into work, I like to use beiges and bronzes. I've always wanted the Urban Decay Naked Palette, but the knock-off Sephora brand (Primal Instincts) is actually pretty killer.
I used the light brown (bronze) on the bottom row, the second one over. And I blended it with a light, light shiny beige called "sable" (top row, second over). It's a super, super natural look. However, the shadows have glimmer, which is important. Also, prime your lids before putting eyeshadow on to avoid creasing (the nice thing about glasses though, is that nobody notices).
See? Super light.
Step five: Pile on the eyeliner. Like, really go for it. This will bring out the gold, shiny hues of your eyeshadow. Next, put on two layers of mascara.
It might look dramatic, but once you put on your glasses back on, you'll see that your eyes won't be quite as intense (but still intense enough). When I put on mascara, I purposely smudge it a bit to give my eyes a messy look, but that's a personal preference.
Urban Decay 24/7 Liner, $20, Sephora
Urban Decay's 24/7 in Perversion is my favorite eyeliner, ever. It's creamy, it's super black, it's water proof, and it doesn't smudge. Also, it's really easy to use.
High Impact Mascara, $17.50, Sephora
My favorite mascara in the world is Clinique's High Impact in black. It perfectly lengthens and never, ever clumps.
Step six: Pick a lipstick.
Almost Lipstick in Black Honey, $17, Sephora
My go-to is Clinique's culty Black Honey. It's sheer, but it gives your lips a "natural, but even better" look. I'm obsessed with it. I have like, five tubes just in case Clinique stops selling it.
And there you go. Ready to bring home da bacon.
2. Going Out Tonight
When you're going out partying, you probably want a bold, fun look. I found this can be tricky, because you don't want to look like Snooki, but you also don't want to feel too "girl next door." So, ditch the natural palettes. Go with darker, more vibrant colors that compliment whatever you're wearing.
Step one: Repeat steps 1-3 from the first tutorial, but swap out the neutral blush for something a little brighter.
Colorful Face Powders, $14, Sephora
Icy Fushia by Sephora is super lovely, blends in perfectly, and doesn't make me look like an awful doll.
Step two: Apply some dark eyeshadow. Instead of going bright or colorful, I usually wear black, because it makes my hazel eyes really stand out, and the color doesn't totally clash with lipstick.
Benefit They're Real mascara, $24, Sephora
Definitely use eye shadow primer, because dark shadows can crease and clump, and it gets kind of gnarly pretty quickly. Also? Have some makeup remover towelettes on hand, because as you can see, black eyeshadow gets everywhere, and it's pretty unforgiving. Wipe away any powder that ends up on your cheeks or under your eyes, so it doesn't look like you skipped sleeping for two weeks. Blend in a gold-beige right below your brows so that the black eyeshadow isn't too jarring. Put on a thick layer of eyeliner on both lids, and one layer of your favorite mascara, and then another layer of They're Real! Benefit mascara.
I look like a psychopath, but whatever. I recommend They're Real!, since this mascara really does elongate your lashes. It makes them fuller and plumper, but for some reason (at least for me), I need to apply another mascara on first before I apply They're Real! You could also opt for fake lashes, if you're feeling extra sassy.
This Ulta eyeshadow in Galaxy is pretty great. A lot of Ulta shadows tend to be super translucent, but this color is creamy, blends well, and is slightly glittery.
Step three: Go wild with lipstick
I know this is kinda ~basic~ of me, but I always go with Ruby Woo for a bright, bold lip. I know NARS and Tom Ford have great options, but Ruby Woo by MAC is more affordable, and I swear it looks good on everyone and anyone (it's magic). And this is coming from someone who refused to wear lipstick until a year ago.
Cherry lipliner, $17.50, Nordstrom
To prevent the color from bleeding, apply lipliner in Cherry, by MAC first.
Ta-da. Totally ready for da clubs. Or maybe Snow White auditions.
3. Date night
Date night is hard! First off, I never wear too, too much makeup, because if you end up making out or whatever, you don't want to make it look like you just murdered someone with your lipstick. Plus, usually date night entails food, and I just hate worrying whether I smudged all my makeup off eating a burger, so we're just going to do something simple.
Step one: Repeat steps 1-3, use a lighter blush like e.l.f. Twinkle Pink.
Step two: Choose a light eyeshadow, but one that's fun and glitzy. I like MAC Day Gleam.
I hate golds that are too yellow, and this one is just perfect.
I love this Sunlit Bronze palette by Maybelline. I sometimes use the orange-y gold color and apply a little bit of it in the left corner of my eyelids for a cool, rainbow-bronze look.
Step three: Apply eyeliner on both lids. Apply mascara (I would suggest a second layer of They're Real, just to give your eyelashes that extra flirty oomph).
So, this is similar to your work look, but slightly more shimmery.
Step four: Opt for gloss. Don't completely leave your lips high and dry, but like I said, you'll be eating, drinking, and probably mashing your faces with someone else's face, so lipstick is just not practical.
Almay Lip Balm, $5, Amazon
Almay's Nudetrients is my favorite nude lipgloss by far. It lasts for a couple hours, and it smells like cupakes.
And here's what I look like when I'm on a date. Usually less sulky, though. Now ya know.
Images: Gina Vaynshteyn