Will He Ever Come Back to 'Law & Order: SVU'?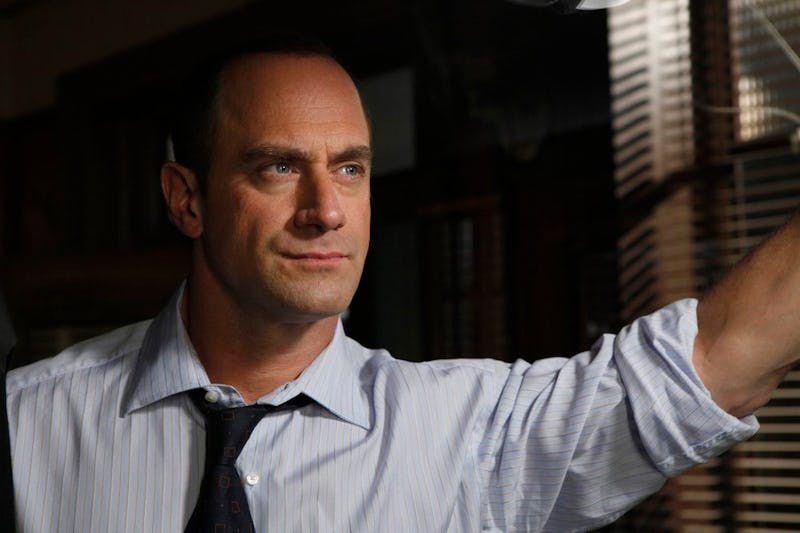 Let's face it: things just haven't been the same on NBC's Law & Order: Special Victims Unit since Christopher Meloni left the show — and neither have fans without our weekly dose of his beloved character Detective Elliot Stabler. It's been three years since Meloni's contract negotiations with NBC fell apart in 2011, causing an abrupt off-screen resignation for the hot-headed detective on the show and leaving Mariska Hargitay's Detective Olivia Benson without a partner. Post-SVU, the 53-year-old actor has had lots of high-profile movie and TV roles, but will he ever consider a picking up his badge and gun as Stabler again?
Meloni has answered both yes and no to that question. Back in 2012, Meloni had a prominent guest role in True Blood and told the audience at San Diego Comic-Con that he would definitely consider reprising his role as Stabler. Awesome, right? That should be any day now. Flash forward to 2014 — he's been a very busy man with roles in many movies (They Came Together, Man of Steel, 42, Sin City: A Dame to Kill For) and other TV shows (Veep, Surviving Jack), but what about Stabler? What happened? Now it seems that a return to SVU isn't as likely as it once seemed. Here's why.
The Grueling Schedule
Meloni spent 12 seasons on SVU, a show with that dealt with a lot of dark stories, and he was also on HBO's intense prison drama Oz for five seasons. Naturally, the actor would want to try exploring his lighter side after all that drama. In January, Meloni told the press at the Television Critics Association winter tour that he didn't want to do SVU's grueling 22-episode schedule again, especially if it dealt with more grim stories. Meloni told The Daily Beast that he is now enjoying the freedom that comes with not being tied to a TV show as a series regular.
It's Time to Do Other Stuff
During Meloni's 1999-2011 run on SVU, the United States had three different presidents, The WB and UPN became The CW, and the OG Law & Order got canceled in 2010. 12 years is a very long time. It seems that leaving the show didn't cause any hard feelings between Meloni and his former costar Hargitay, as he also told The Daily Beast that they email each other all the time and in March he posted a photo of them together on Instagram, along with the caption #partners4life.
It's Not Just Him — It's Them Too
In an interview with Hitfix, Meloni confirmed that fans often tell him they want to see him back on the series, and showrunner Warren Leight receives similar requests on Twitter. Meloni has expressed nothing but love for SVU in interviews, especially when he gets asked if he'll return for a guest appearance, but as in the Hitfix interview, the answer tends to ultimately be that it's not his decision to make. Both sides have to want to do it and come to an agreement. When will that be? Hopefully, before SVU eventually finishes its run on NBC.
Images: Will Hart/NBC; bcat1/Tumblr (2); chris_meloni/Instagram