Are You Using The Right Cold-Weather Moisturizer?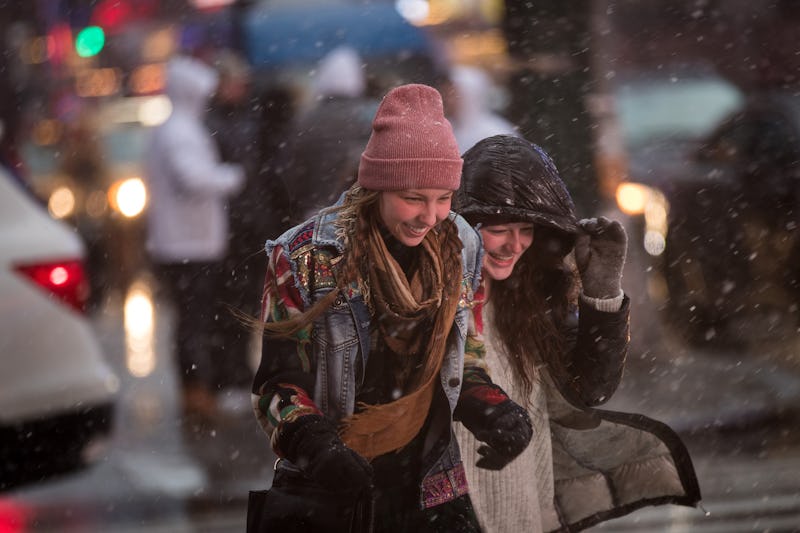 Drew Angerer/Getty Images News/Getty Images
As we move into the winter months, the colder weather can be brutal on the skin. But it's not just the cold and wind that is problematic. The excess heat that we use in our cars and homes also play a factor in drying out skin. And if you don't change up your skincare routine, you might not be providing your skin with all the protection it needs from the elements. By not providing adequate protection, skin can become so dry that it experiences chapping, flaking, cracking, and even eczema. That, of course, includes using proper moisturizer for your skin type.
To prevent wintertime damage, there are a few things that you can do regardless of your skin type. First of all, make sure to stay hydrated. Drinking enough water is just as important in the winter as it is in the summer. Also, try using a gentler cleanser and toner. A cream-based cleanser and a non-alcohol based toner will help keep skin from being stripped of excess moisture. Finally, make sure to apply your moisturizer within a couple of minutes after you wash your face to really lock in hydration. The longer you wait, the more moisture is able to escape.
But since different skin types have different moisturizer requirements, it can be a little confusing figuring out what is best when that extra hydration is needed. No worries — I've got you covered. Here are some moisturizers and general formulas to consider for your winter fix.
Dry Skin
Murad Hydro-Dynamic Ultimate Moisture, $75, Sephora
Lush Skin Drink, $26, Lush
You dry-skinned girls can go as hard as you want with your moisturizer. To combat the harsh winter weather, though, look for something oil-based for extra moisture and protection.
Normal Skin
Kiehl's Ultra Facial Cream, $28, Kiehl's
First Aid Beauty Ultra Repair Face Moisturizer, $24, Sephora
Normal skin-types should also look for oil-based moisturizers during the colder, drier months. But if you prefer oil-free formulas, look for a cream with a thicker texture than what you might normally use during the summer.
Combination Skin
Ole Henriksen Truth Revealed Super Crème, $55, Sephora
La Roche-Posay Hydraphase Intense Riche , $36, Amazon
It can be more difficult to find the right moisturizer for combination skin, but in the colder months, it's more important to cater to the drier, more sensitive parts of your face. Look for a richer formula than those you would use in the summer months.
Oily Skin
Kate Somerville Oil Free Moisturizer , $65, Amazon
Yes To Tomatoes Daily Balancing Moisturizer, $15, Ulta
If you normally use a gel-based moisturizer, try switching to a creamier formula. While oily girls can also benefit from oil-based moisturizers, if you're wary of appearing too greasy, try a cream formula that is oil-free for just the right amount of hydration.