Ebola Predictions Are In, And They Are Not Good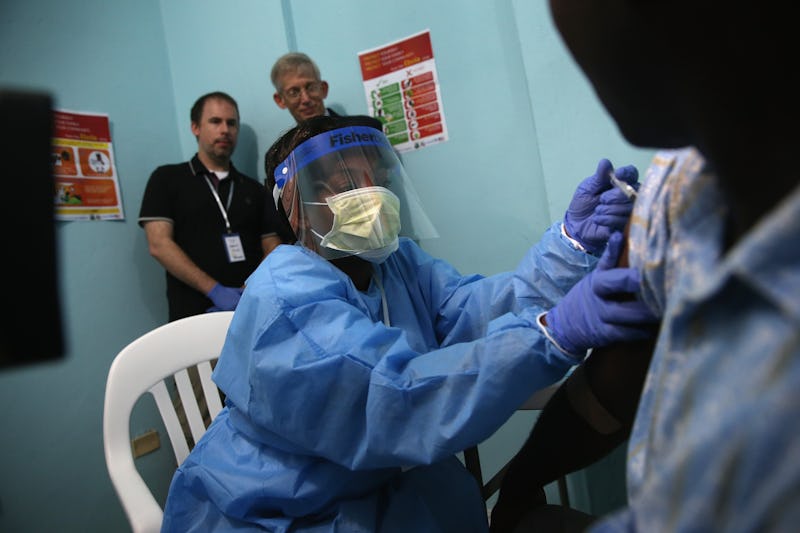 John Moore/Getty Images News/Getty Images
If there's one thing the Centers for Disease Control (CDC) knows how to do, it's terrify me. But it's not their fault. It's just that the news is, well, genuinely terrifying — there aren't many headlines worse than what they projected about the Ebola outbreak in West Africa Tuesday. The main, glaring takeaway: Ebola could infect 1.4 million people by Jan. 20, 2015 if the crisis continues unabated. This is an unthinkably higher figure than it is at present, across a swath of stricken West African states — Sierra Leone, Liberia, Guinea, Nigeria and Senegal have all had at least one reported Ebola death, though the latter two have been (relatively) unaffected.
At present, the CDC is calling this the worst-case scenario, and thank God for that — in other words, the eye-popping figure is not any kind of guarantee, but rather an urgent warning and call to action. According to The New York Times, CDC director Tom Frieden doesn't believe that this is actually the scenario that will come to pass, just what might happen if nations don't keep their full-fledged containment and treatment efforts going. And recent developments have, at the very least, brightened his outlook.
My gut feeling is, the actions we're taking now are going to make that worst-case scenario not come to pass. But it's important to understand that it could happen.
There are some reasons to share Frieden's "gut" optimism about recent developments, even though the people of West Africa are far from out of the woods. Beyond just the U.S. response getting off the ground, with President Obama authorizing the deployment of 3,000 troops to aid the effort, officials in Sierra Leone has been proactive, as well. The government recently imposed a three-day public lockdown, confining citizens to their homes, to allow workers to locate infected people (as well as human remains) and treat them properly.
According to the Washington Post, Sierra Leone's President Ernest Bai Koroma dubbed the operation such a success that a second lockdown may be considered.
For some perspective on the CDC's dire projection, the current number of confirmed Ebola cases across West Africa is 5,843, according to the World Health Organization (WHO). As The New York Times notes, the 1.4 million figure also takes into account that the true number of cases is likely far higher than what's been confirmed — the CDC estimates that the true number of cases, including those unconfirmed or unreported, may be 2.5 times higher than official tallies suggest.
Based on current confirmed figures, 47 percent of people infected with the virus during this outbreak are dying. Extrapolated across a possible 1.4 million sufferers, that could mean death for nearly 658,000 people.
But here's the silver lining — the same projection model's best-case scenario could see the Ebola outbreak largely contained and thwarted along that same timeline, by Jan. 20, if the international and local response continues to increase in pro activeness and efficacy. In other words, the CDC is telling us that there's a fork in the road ahead, with one route being relief, and one... not.
But the good news is that the world is paying attention now, with potential vaccines and treatments in the making. So maybe things will look a bit better if you check back in four months.
Images: Getty Images