She's Has a Long List of Credits in TV & Theater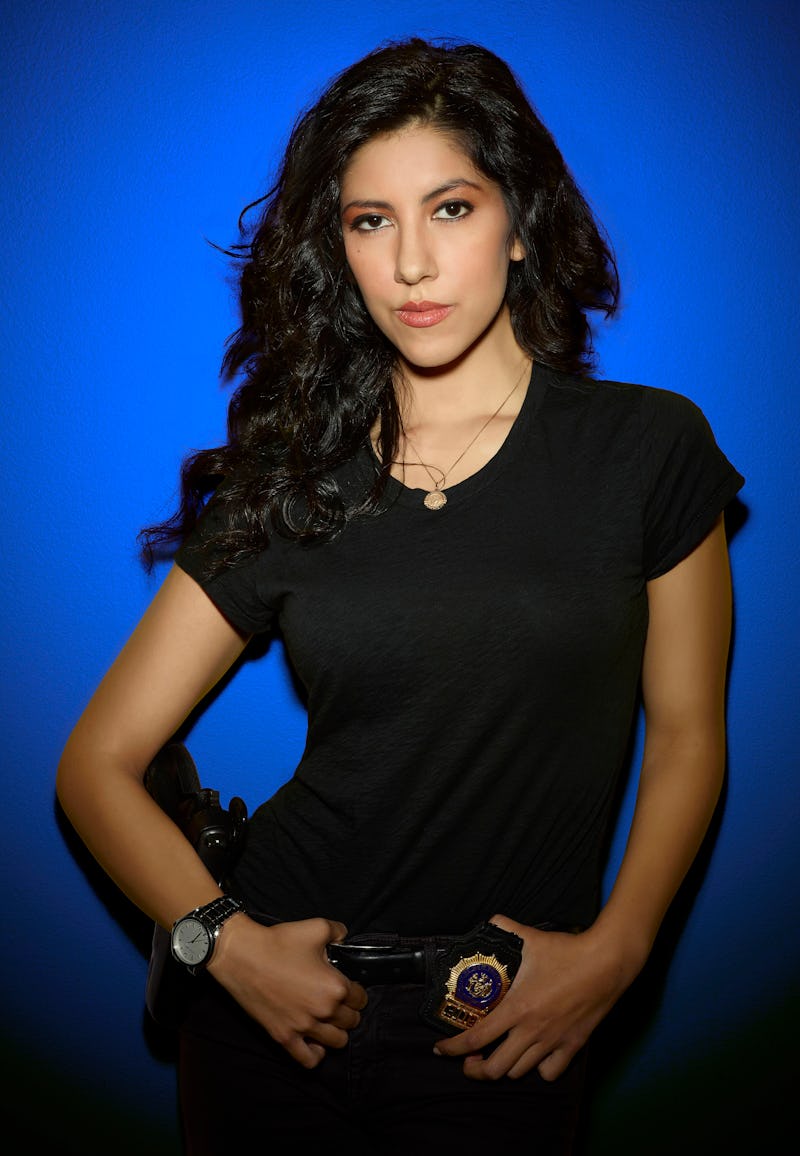 Andy Samberg may have been the only actor to walk away with the Golden Globe, but Brooklyn Nine-Nine is not just a vehicle for one comedian. It's an ensemble. And one of the ensemble members stealing the most laughs on the show is Detective Rosa Diaz, played by Stephanie Beatriz. Beatriz has managed to put a new spin on the old hardened cop trope, showing Diaz's soft spot for Detective Charles Boyle.That's not the only thing that feels fresh about Beatriz. She makes Diaz easy to believe as a real person because, well, we haven't really seen all that much from her before, so we don't really associate her with any other roles. But it's good to finally get to know her, through Brooklyn Nine-Nine, her Twitter account, and her blog at Latina . There, her bio says, "She loves her senior chihuahua and kombucha, and is a serious graphic tee shirt addict. She's also really, really into Disneyland." We feel you, Beatriz. But was there a life before Brooklyn Nine-Nine? Here's where you might have caught a glimpse of her before she put on the badge.
She Has Lots of TV Credits
But not very consistently. She's had one-episode parts on other comedies, like Hello Ladies and Jessie, as well as — not surprisingly — crime procedurals, like The Closer and Southland. Perhaps most memorably, she played Gloria's sister on Modern Family. "Building her was really fun," she told Ask Men. "Imagine growing up and having Gloria/Sofia Vergara as your big sister. There's no competing with her. She's always going to be so beautiful and charming, it must make you shrink down into a little bean, holding in all your jealousy all the time. I finally get to explode at the end, when I find out my life could have been just as glorious."
You Might Have Seen Her in Short Term 12
If you haven't seen Short Term 12, rush as fast as you can to the nearest site that will stream it for you. Not only is it a fantastically moving movie about the kids and staffers at a group home, but like Brooklyn Nine-Nine, it also has an amazing ensemble cast (John Gallgher, Jr. and Brie Larson!) with meaty roles for all of them (especially the ladies). In the film Beatriz plays Jessica, an especially hardworking staff member at the home. "It was a really special script," she told Gozamos. "I think everyone involved was bringing their A-game because the story needed that respect." Her next film also seems like a departure from her TV show: the film You're Not You co-starring Emmy Rossum and Hilary Swank.
Really, Though, She's From the Theater
If you haven't seen Beatriz around before Brooklyn Nine-Nine, it's probably because you had to head to the theater and see her live on stage. She'd been doing regional theater before her jump to the big screen. I know it's hard to picture Diaz reciting Shakespeare, but that's pretty much what Beatriz was doing; she's done multiple stints with the Oregon Shakespeare Festival, in plays like Measure for Measure and Love's Labour's Lost. She also had the notable title role in Ocatavio Solis' Lydia, which eventually was performed at the Mark Taper Forum in Los Angeles. In Ask Men, she credits that production with getting her an agent.
She Does Smile In Real Life
Even if she doesn't show her pearly whites as Diaz on Brooklyn Nine-Nine, she does let her guard down in real life. She's a lot less intimidating that way.
Images: Scott Schafer, John Fleenor/FOX; Getty