Elsa & Anna Have No Loyalty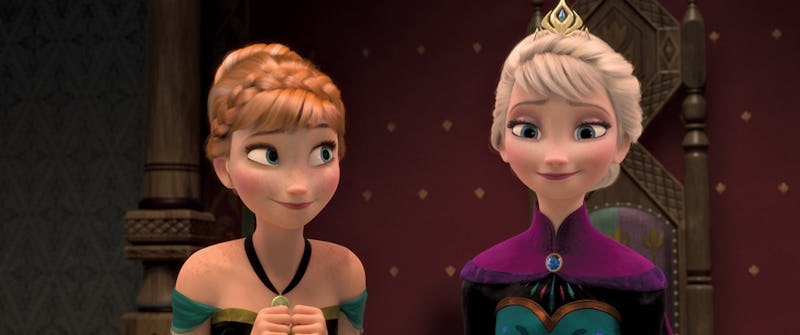 It's good to be in the business of Frozen. Since its debut last year, the movie has made, roughly, 20 gazillion dollars, and you can't walk out of your home without being hit in the face with an Elsa, Anna, Olaf, Kristoff, or Hans doll. Plain and simple, the movie, and all of its franchise paraphernalia, is one of the biggest juggernauts we've seen in a while. Up until this point, Mattel has been the manufacturer of all Frozen dolls, as well as the producer of all other Disney princess figures (think Cinderella, characters from Beauty and the Beast, etc.), but, much to the company's chagrin (assumingly), Disney has decided to end their princess-based relationship with Mattel in order to go with rival toy company, Hasbro. In short, the fairy tale is over, Mattel. Starting in 2016, Hasbro will be the producer of all the Disney princesses that surreptitiously haunt the aisles of every store in America at your child's eye-level. (I mean, seriously, when did grocery stores start selling doll's, for god's sake?)
Disney has declined to comment on the transition, but a spokesperson for Mattel confirmed the business decision. Representatives for Hasbro weren't able to be understood over the cacophony of cheering, champagne pops, and loud, celebratory music in the background.
Poor Mattel. Talk about getting screwed. Oof. Somewhere, there's a vodka bottle with Mattel's CEO written all over it.
In a statement released on Wednesday, Hasbro Chief Executive Brian Goldner said, "Our strategic thought leadership and innovation has led to the steady growth of our girls business over the past several years demonstrating that we have a true understanding of girls globally and how today's girls want to play."
Right. Because it takes years to figure out that little girls are going to ask their parents to buy them the pretty, pretty princess they see on the shelf of the movie they've seen 974 times. But, hey, congrats, guys!
Images: Disney