Don't Watch Season 2 Until You Catch Up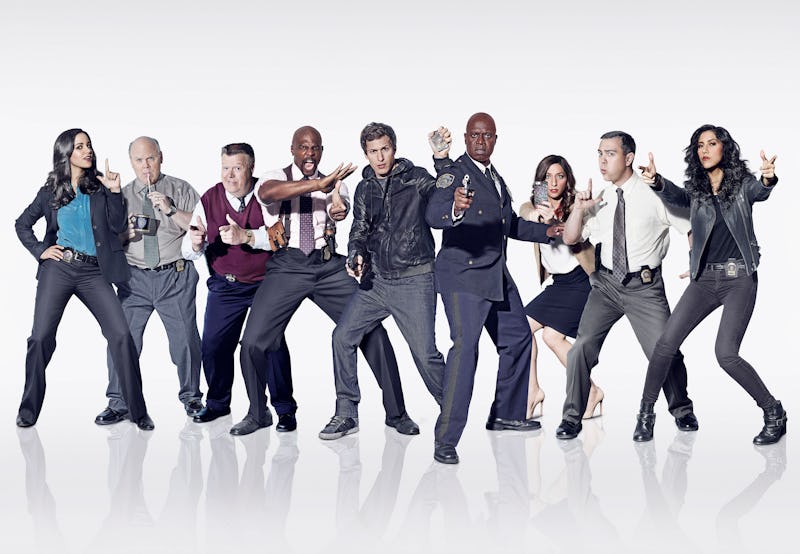 Brooklyn Nine-Nine had an amazing first season. Not only did it arrive as a funny, original show pretty much from the very first episode, but it also walked away with great ratings and a Golden Globe for best TV comedy series. And now Brooklyn Nine-Nine is coming back for Season 2, moving to FOX's Sunday night, formerly home to Animation Domination.
Behind the scenes, the show was co-created by Parks and Recreation's Michael Schur and Dan Goor, who between them have never been on a show that wasn't amazing. Saturday Night Live, The Office, The Comeback, Parks and Rec… all of those shows weren't just hilarious, they were revolutionary. And two of the producers are Chris Miller and Phil Lord, who are able to turn even the most expected, cliche things into comedy genius, like their 21 Jump Street or Cloudy With a Chance of Meatballs adaptations.
Stars Andre Braugher and Andy Samberg have surprisingly great chemistry — and, as I just noticed, kinda similar names. As a tough captain and the cop who only plays by his own rules, they're able to both keep the traditional tough sarge/rouge detective dynamic that's in basically all of police fiction while also making them a comedic odd couple. And because many of the writers are Parks and Rec veterans, they know how to balance making the characters good at their while still being funny.
So the show's pretty damn great. And since the second season is right around the corner, take advantage of all the places you can watch Brooklyn Nine-Nine online and catch up.
Hulu Plus
The $7.99/month fee actually isn't so bad, and they have a lot more episodes of other shows (including basically everything that's ever been on Bravo) than they used to. They have all 22 of B99's episodes. The only big downside is that even with a Plus subscription, you still have to watch ads. And hey, this isn't an ad for Hulu — you can get access for free if you're willing to watch all of the episodes in the seven day free trial.
FOX's Website
If you have a cable account and know your online login info, FOX.com currently has episodes 18-22 available to watch for free. Episodes 1-17 aren't currently available, but if you just want a refresher to remind you of the cliffhangers at the end of Season 1 — Jake going undercover, Boyle's wedding, Santiago/Peralta will they or won't they — you can get the final quarter of the season. But hurry, because FOX is taking down the episodes one by one over the next month.
Time Warner Cable On Demand
If you go through the yearly ordeal that is dealing with Time Warner Cable, take solace that it seem to be the sole cable provider who still has the entire Brooklyn Nine-Nine Season 1 On Demand for free.
Amazon, iTunes, & Vudu
Choose the episode-for-purchase service of your preference. Vudu has HD episodes for $2.99, Amazon has them for the same, and offers the entire season for $19.99. iTunes has the exact same deal. All you have to do is choose what huge corporation you want to support with your hard earned cash.
Image: Scott Schafer/FOX; Giphy (5)