Hello Kitty Nail Wraps? Yes, Please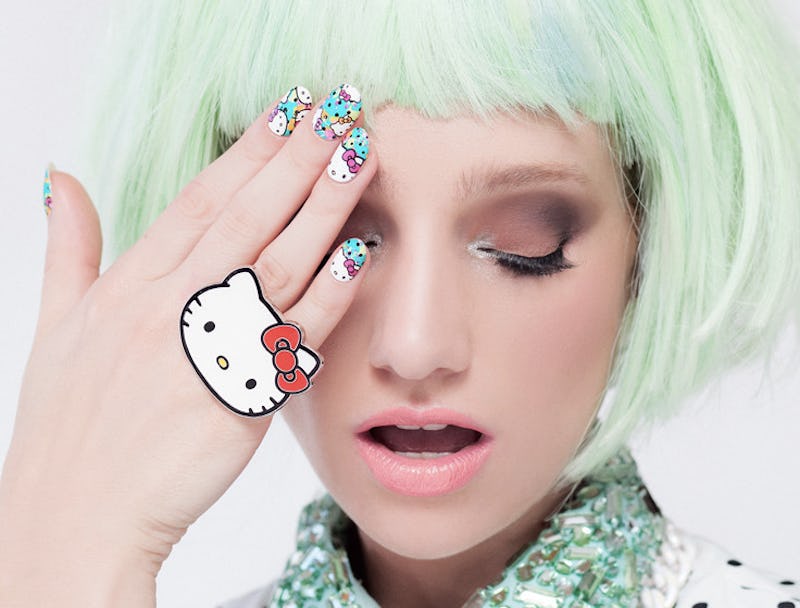 Hello Kitty is turning 40 and celebrating their anniversary milestone with a creative, new collaboration, designed to bring the famous brand literally to your fingertips. Sanrio, Inc., the brand behind the iconic kitty, has partnered with Los Angeles based nail-fashion brand NCLA for a Hello Kitty nail wrap custom collection, launching Thursday, and I'm already purring my approval. Both brands encapsulate creativity and self-expression, so in fusing those elements with beauty and fashion, the nail art hopes to give the public an outlet to showcase their passions and personality.
The Hello Kitty x NCLA collection, which is now available for sale at NCLA, features 8 unique designs including:
HELLO KITTY TROPICAL FLORAL DOT!
MOD HELLO KITTY
HELLO KITTY NEON
HELLO KITTY PLUSH
3-D HELLO KITTY
HELLO KITTY BOWS
HELLO KITTY GRADIENT
HELLO KITTY POLKA DOTS & STRIPES
The wraps are simple and straightforward, just paint on a clear polish, let it dry, peel the wrap from the sheet, apply it to the nail, and finish off with a top coat to seal. Say good-bye to polish streaks and shoddy left-handed painting! The collection retails for $18, giving us an affordable (and much cleaner) way to dress up our nails. Plus, they're just really, really freaking cute.
Images: Courtesy NCLA (2)