Hilary Duff's Classic 00s Music Videos Ranked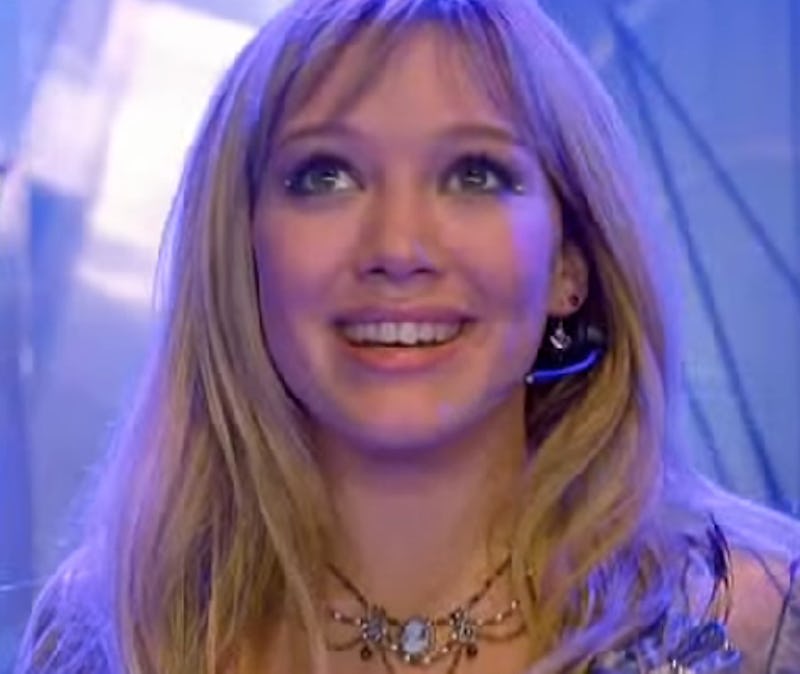 Hilary Duff is seriously ready to make a comeback. Duff released the video for her new song "All About You", and it's got all the essential components of a Hilary Duff video. In the video, Duff encounters a hot dude in a restaurant, snaps a picture of him (creepy, but for the sake of this discussion, I'll allow it), shows it to all of her friends who are dancing in what looks like the Alexandria Hotel ballroom, but could really be any of the empty loft/deserted dance hall/haunted ballet studio where Duff's previous videos appear to have shot. Not judging, just an observation. Duff later organizes a classy hoedown at the L.A. River (of all places) that looks like a collaboration between Urban Outfitters and Blake Lively's Preserve. As one does.
As Vulture's Nate Jones points out, "All About You" has a hardcore Swifty vibe to it, and it's catchy enough to make up for her previous comeback single "Chasing the Sun" that was criticized for being kind of underwhelming. Though the song has definitely been updated for grown-adult Hilary Duff, "All About You" is totally reminiscent of the Duff Golden Years of the 2000s. Here's a look back on Hilary Duff's shining moments of the 00s:
"Our Lips Are Sealed"
Flip phones, convertibles, and dramatic silhouettes.
"Come Clean"
So much rain, so many feelings. Extra points for the platinum blonde.
"So Yesterday"
Loving the fingerless gloves.
"Wake Up"
The fingerless gloves return. Hilary Duff tries on a 00s soft-goth look that somehow works really well and a beret.
"Why Not"
Rooftop rock-out. Classic Duff.
"What Dreams Are Made Of"
This was the theme song from The Lizzie McGuire Movie and technically not a music video, but the faux Italian, brown-haired Hilary Duff vs. regular, blonde Hilary Duff never gets old.
Image: DisneyMoviesOnDemand/ YouTube