When Do We Get More Liev?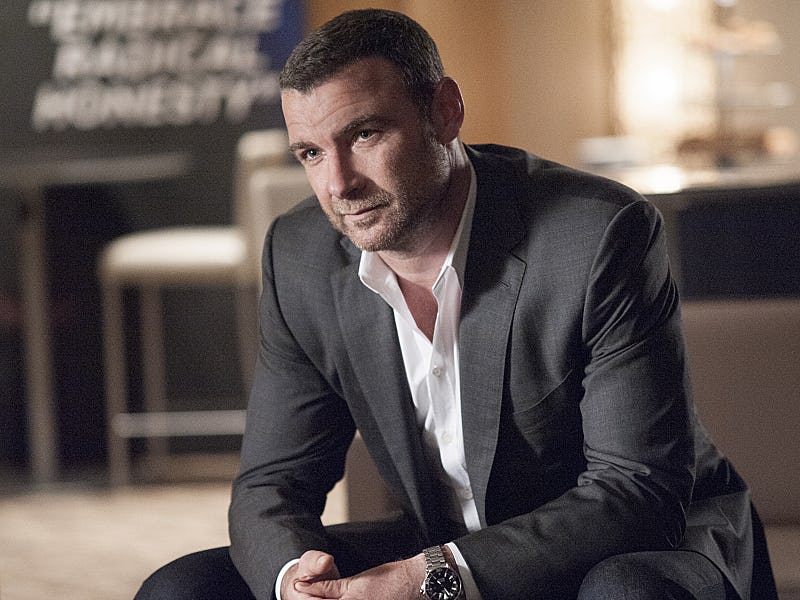 Showtime doesn't get the same respect as fellow pay-cable network HBO, and that needs to stop. The HBO monopoly needs to end. Showtime's summer series, Masters of Sex and Ray Donovan, were able to completely stand up opposite HBO's summer slate of The Leftovers. And now, Ray Donovan has been renewed for Season 3 and will be returning in the summer of 2015 alongside Masters of Sex.
And thank goodness. It takes amazing actors like John Voight and Liev Schreiber and gives them these overly dramatic, almost cheesy beats and dialogue to play. And as the two leads, they approach the material in totally different ways. Schreiber underplays almost everything, delivering all of his lines in a gruff, quiet monotone, letting physical outbursts hold the place of emotional ones. Ray uses his job as an outlet for his baser instincts, whether it's his compulsive need for intimacy that he channels through extramarital affairs or his attempts to control Mickey, his father, in order to get his love.
By contrast, Voight goes huge with it, chewing up the scenery, spitting it out all over his costars, and then doing a little jig over the scenery's tattered remains. He leaves it all on the screen, and it's over the top, but he did get an Emmy nomination this year, so it resonates. By the way, that nomination could have been issued solely on the basis of his dance moves.
Angelina Jolie MISSED OUT on having this at her wedding.
As far as prestige dramas go, it goes for "fun" and "entertaining" more often than "weighty" — but does so without getting too campy or ridiculous (with, of course, an exception for Jon Voight). It's no Mad Men, but it's also not True Blood, and with Homeland getting increasingly crazy, it's easy to appreciate Ray Donovan for sticking more confidently to its crime drama roots. It's very similar to something like The Fighter, which isn't necessarily thematically dense, but does have a well-measured mix of emotion and violence.
And because it's a cable series, it only has 12 episode per season, so actors like Eddie Marsan and Paula Malcomson can commit to showing up for a few critical scenes per episode but aren't forced out of doing work in films or on other shows during the offseason. They'll be back in Calabasas in early 2015 to shoot Season 3, in anticipation for the summertime release. Judging by the premiere of the last season, it should arrive by the end of June or beginning of July. So there's a whole year to catch up on Ray Donovan Seasons 1 and 2, and rest assured that after all of the cliffhangers left after Sunday night's finale, that in just 10 short months, we'll get answers.
Images: Suzanne Tenner/SHOWTIME; Giphy (2)