Yes, 'Bill & Ted 3' Is Happening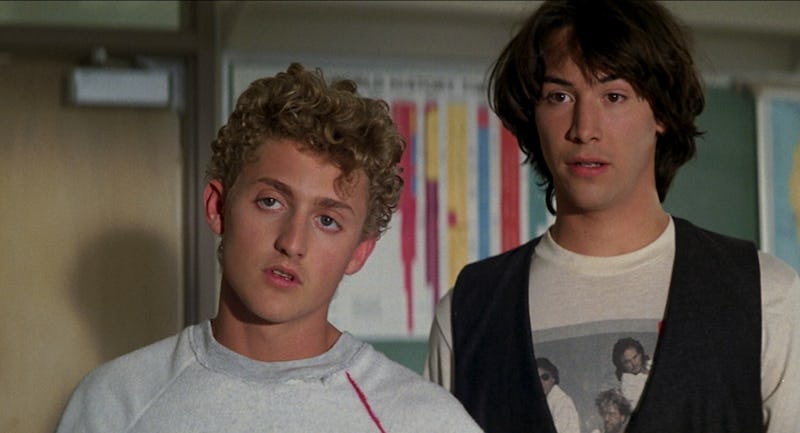 I need to find a way to get through this post without using the words radical or bodacious. I believe we can do this together, but it will be difficult: It would appear that Bill & Ted 3 is indeed moving forward — though still at a relatively glacial pace. In the meantime, Bill & Ted overlord Alex Winter would like you to know that, yes, the threequel will involve a middle-aged Winter and a middle-aged Keanu Reeves as Bill and Ted, both changed and unchanged, matured and eternal, 40-something and probably still using words like the ones I specifically banned myself from using above.
Winters recently spilled a bunch about the movie to Yahoo. Amongst his tidbits included something about what we can actually expect from it:
[Bill and Ted] will be fortysomething and it's all about Bill and Ted grown up, or not grown up. It's really sweet and really fucking funny. But it's a Bill & Ted movie, that's what it is. It's for the fans of Bill & Ted. It fits very neatly in the [series]. It's not going to feel like a reboot. The conceit is really funny: What if you're middle-aged, haven't really grown up and you're supposed to have saved the world and maybe, just maybe, you kinda haven't?[...] There's many versions of ourselves in this movie. [It's] answering the question: 'What happened to these guys?' They're supposed to have done all this stuff, they weren't the brightest bulbs on the tree, what happened 20 years later? To answer that question in a comedic way felt rich with possibility.
As for when it'll be coming out? The answer to that seems to still be...eventually, probably, someday?
Image: Orion Pictures