Everything That Was Great About 'Masters' Season 2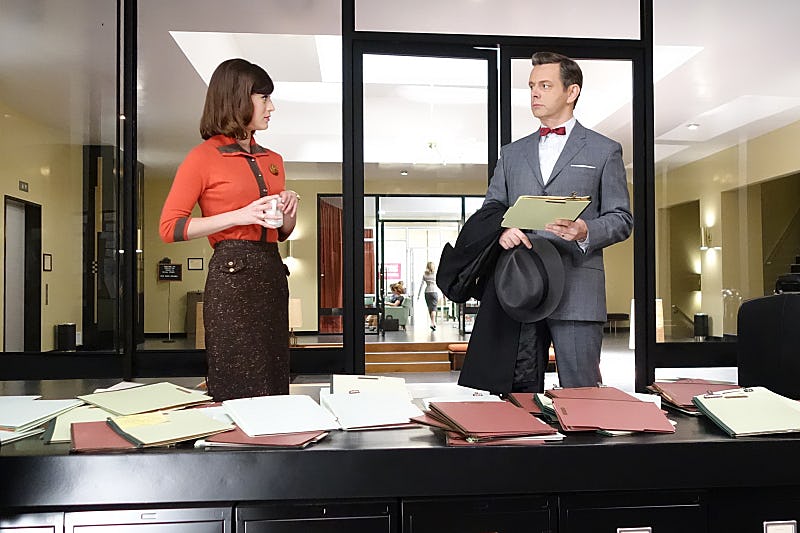 Whoever thought that between Mean Girls costars Rachel McAdams, Lindsay Lohan, Amanda Seyfried, and (then unknown) Lizzy Caplan, it would be Caplan who emerged with the most exciting career of them all? Yes, the girl who told all of North Shore High to "suck on that" has come a long way since 2004. Caplan is now an Emmy-nominated actress for her strong, thoughtful portrayal of Virginia Johnson on Masters of Sex. Virginia is one half of the real-life team of 1950s sex researchers Masters and Johnson, but the show has distinguished itself by focusing on plots mostly outside the bedroom. Season 2 has had a great run, but as soon as that finale aires, the first thing we'll be dying to know is when Season 3 of Masters of Sex premieres. The good news is that it's already confirmed by Showtime that Masters will be back next summer.
In August, Showtime announced via press release that Masters of Sex was renewed for another season. Like both previous seasons, next year's will be made up of 12 one-hour episodes. Production will start in early 2015, which puts it on track for a summer premiere, just like Season 2. That means we have less than a year until Masters and Johnson return to us. (Although, we won't be as lucky as we were with Season 2: Season 1 debuted as a fall show and ended in mid-December of 2013, so we only had to wait six months for round two.) But I think we can all manage to wait a little under a year for the return of Masters of Sex, or, as I like to think of it, Sex Ed with Janis Ian).
But because there are very few things on TV right now that match the caliber of this show's storytelling or its acting, here are all of the things we can play over and over again in our minds while we wait for Season 3 to get going:
Lillian Goes Gracefully
Virginia — or Ginnie, as she's affectionately called — is a great female character, and she needed an equally badass lady to play off of. Enter Lillian DePaul (Julianne Nicholson), the only female OB/GYN at the Washington University hospital (and if that doesn't show you bad women's medical care was in the 1950s, I can't help you). We saw Ginnie start her work with Lillian studying cervical cancer last season, but this season they grew closer than ever, as Lillian's cancer worsened. In "Blackbird," their final heartbreaking episode together, Ginnie is forced to face the truth that her friend is dying and there's nothing else she can do. These two women are opposites, but they really were each other's only friends.
Bill. Has. a Brother.
Throughout Masters of Sex's two seasons, we've gotten glimpses into Bill Master's (Michael Sheen) rough childhood, which goes a long way toward explaining his relationship to sex and intimacy (also not so good). But it wasn't until just a few episodes ago that we discovered Bill has a brother he conveniently forgot to ever mention. Francis (Christian Borle) shows up with wife ostensibly looking for fertility treatments, but it eventually comes out that he's actually there to forgive Bill for leaving him behind with their abusive dad when Bill left home. Francis decides the best time to have this conversation is in the middle of his AA meeting, which he tricked Bill into attending. After pulling a stunt like that, I'm guessing Francis isn't invited back for the next family get-together.
Libby Gets Political
On the surface, Bill's wife Libby (Caitlin FitzGerald) is the classic '50s housewife: she cooks and cleans and wears big poofy dresses to "keep up appearances." Look a little closer, however, and Libby is a whole lot more than that. She's constrained by her circumstances, yes, but after putting up with Bill's distant and controlling behavior for too long, she finally starts to build a life for herself outside of her marriage — by joining a civil rights organization as their only white volunteer. The scene in which she swallows her pride and takes lunch orders from her black supervisors is one of the best moments of Season 2.
Bonus: Any Scene with Lester
The man just has a way with words.
Images: Michael Desmond/Showtime (4); Giphy (2)