Justin Timberlake's 14 Most Embarrassing Faces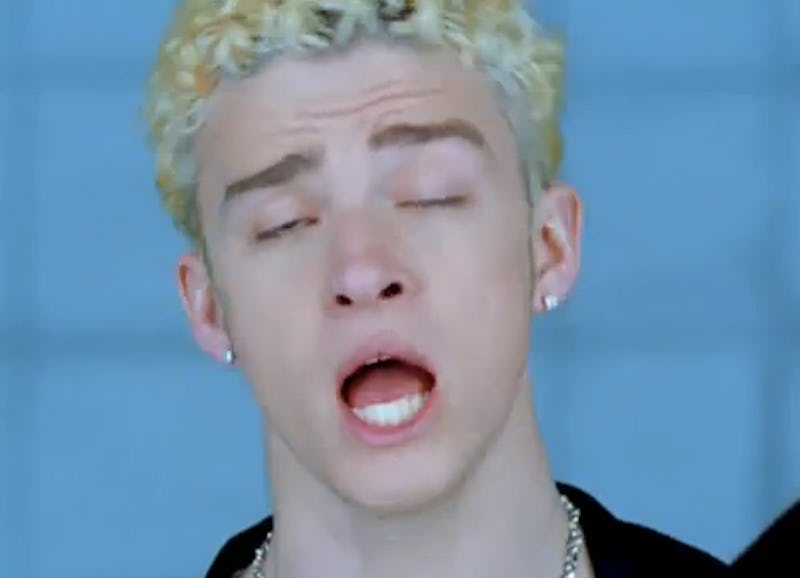 By now, even your 80-year-old grandmother living under a rock with headphones on knows that 'NSYNC reunited at Sunday night's Video Music Awards. Which means that even your 80-year-old grandmother living under a rock with headphones on knows that the performance was a tad disappointing. True, Justin Timberlake — prior to accepting his Vanguard Award from a hyperventilating, starstruck Jimmy Fallon — whipped out a long, awe-inspiring set of his solo music that had all of our 20/20 vision blurring, but only 43 seconds of 'NSYNC? No wonder the group sang "Gone" and "Bye Bye Bye" during the reunion — because they were gone sooner than we could say "Hello Hello Hello."
But, then again, there's little wonder. After all, Timberlake's star power catapulted even higher than Chris Kirkpatrick's pineapple hair after the group parted ways following 2001's Celebrity. In order to develop into the superstar he is today, he had no choice but to mature by leaving Kirkpatrick, JC Chasez, Joey Fatone, and Lance Bass behind. (Heck, the singer-actor nearly left music behind altogether following success in films like 2007's Shrek the Third and 2010's The Social Network. Remember this?) Why would he want to remind fans and media that he came from the world of Lou Pearlman and color-coordinated turtlenecks?
And, more specifically, why would he want to remind fans and media of all the horribly embarrassing faces he made in 'NSYNC music videos? Too bad we will remember them regardless of how famous Timberlake becomes. So, in honor of the singer's Vanguard Award toasting his music video past, let's take a look at some of the firm reminders why Timberlake wants us to forget that he used to be one-fifth of 'NSYNC. Stay away from the "Mirrors," Justin — you don't want to see these faces staring back at you anymore.
"I Want You Back"
Really, we can't blame a 15-year-old Timberlake here. The perks of being a rising pop star? Really great fabric softener.
"Together Again"
Mr. T pities the fool who tries to pull off his look.
"U Drive Me Crazy"
This single — which, yes, shares a title with Timberlake's future girlfriend Britney Spears' 1999 track — was only released in Germany, whose biggest imports are oil, David Hasselhoff, and whatever Timberlake's eating.
Timber-bakes?
"Tearin' Up My Heart"
Miley Cyrus, Timberlake totally hipster-ed you.
"Drive Myself Crazy"
Let's still frame that puppy.
Slap that on a Lisa Frank binder.
"Merry Christmas Happy Holidays"
No one likes precipitation in their ramen. Especially not Timberlake.
"This I Promise You"
"I will succeed in matching my turtleneck and goatee. This I promise you."
"It's Gonna Be Me"
Timberlake's 'NSYNC doll: Teeth not included.
"Music of My Heart"
Strangely, Timberlake closes his eyes when singing the lyric, "You opened my eyes."
But don't open yours, because then you'd have to watch him promptly transforms into a shark.
"Gone"
Timberlake expertly gives a pedicure...
...and then sings about the pain of not being able to give a pedicure anymore.
Looking at these, shouldn't we respect Timberlake's feet — er, feat — of achieving fame despite years of embarrassment?