Is Your Favorite Fall 2014 TV Show Feminist?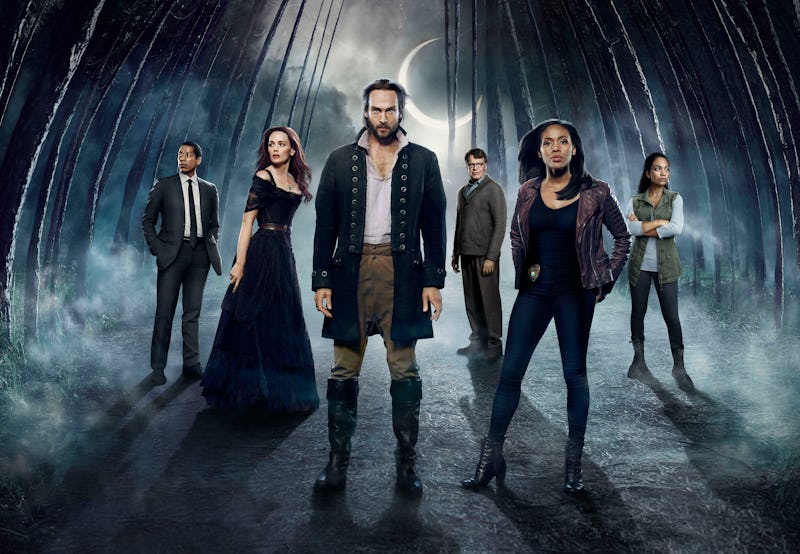 The fall 2014 television season has only just begun and it's already difficult to tell what you'll be keeping in your DVR and what you'll have to delete to make room for something else. All the networks really stepped up their game when it came to putting out quality programming. (I mean, what cruel person decided to put Scorpion and Sleepy Hollow on at the same time? How can I pick?) The latest show attracting huge buzz was the premiere episode of How to Get Away with Murder , the newest Shonda Rhimes vehicle that has everybody hooked, but since last Monday, and continuing into next week, there is an insanely good block of shows waiting to be watched. However, and this should come as no surprise, insanely good doesn't always mean insanely feminist.
There are plenty of good shows, movies, and books out there that aren't necessarily ranking high on the feminist charts. For example, Pacific Rim was an amazing movie with an amazing female lead, but it failed the Bechdel Test completely. Can you enjoy your favorite fall shows even knowing that they don't score high on this feminist report card? Of course you can. Is it just something to bear in mind as the shows move forward? Of course it is. After all, loving something doesn't mean that you can't be aware of its problematic elements. Here are eight fall premieres and pilots and the grade I gave them, ranked from most sexist to most feminist.
Scorpion
Feminism Grade: D
Scorpion was an amazing pilot, but it was pretty weak as far as feminism was concerned. There are only two females in the main cast of Scorpion and neither of them interacted much with each other in the pilot. Add that to the fact that it sits wrong with me that Walter and the predominantly male geniuses need a woman to help them feel feelings — a sexist job only assuaged by the fact that one of the geniuses is herself a woman — and I have to give you a D.
black-ish
Feminism Grade: C+
black-ish has a main family, the Johnsons, that has exactly as many women in it as it does men. That would qualify it for a B at least if not for the way the female characters were utilized in the pilot. The eldest daughter was portrayed as shallow and attached to her phone, the youngest daughter was used interchangeably with the brother closest to her in age, and the mother took a lot of colorist criticism from her own husband throughout the episode. I'd like to have seen everyone fleshed out a little more.
Gotham
Feminism Grade: B-
Gotham has a strong cast of characters that are almost evenly split genderwise, which earned it a B grade. Of the central cast, we have five females: Barbara Kean, Renee Montoya, Fish Montoya, Sarah Essen, and Selina Kyle. However, Gotham lost points for failing the Bechdel Test, since none of these women talk to one another about something other than a man, and one of them — Selina Kyle — doesn't actually talk at all.
Selfie
Feminism Grade: B+
Shockingly, the Selfie pilot was incredibly feminist. They took the sexist tale of Pygmalion and made it into a feminist tale. Eliza is the one who goes to Henry for help changing her image, making the entire transformation her choice rather than a bet made between two men. Henry and Eliza come to an understanding about changing each other, making this one-sided relationship more evenhanded and charming. Plus, if you count Bryn's entire book club and Charmonique, the females currently outnumber the males in this cast.
How to Get Away with Murder
Feminism Grade: A
How to Get Away with Murder is a female-led show with a main cast that is made up of an equal number of male characters and female characters, between Annalise Keating, her students, and her assistants at the law firm. A standout moment for me was the depiction of Annalise receiving oral sex from her self-titled "boyfriend"; you would probably be shocked by how unusual it is for women to be shown being on the receiving end of that in intimate TV scenes.
Faking It
Feminism Grade: A
Faking It really doesn't need help on the feminism scale. The main characters are both female and there hasn't been an episode that fails the Bechdel Test, even with Karma's lines being able to be basically summed up as "popularitypopularity AmyAmy LIAMLIAMLIAM." The premiere episode of season two featured an Amy, a Karma, and a Lauren who had way, waaaay more going on than love interests and all three females are thoroughly fleshed out characters beyond romantic storylines.
Sleepy Hollow
Feminism Grade: A
If I had any complaints about the campy fun that was the first season of Sleepy Hollow, it's that it was too short, it underutilized Abbie Mills in the second half, and Jenny Mills should have been a regular from the start. The premiere episode of season two made all of those complaints disappear, however. From Jenny Mills not only staging her own rescue but also hijacking the rescue Ichabod staged for her because he can't drive, to Abbie slicing off a demon Ichabod's head mere seconds before Ichabod runs to rescue her, the badass ladies of Sleepy Hollow are always bringing the feminism.
Scandal
Feminism Grade: A+
The idea of Scandal not being a feminist show after four seasons would just be patently ridiculous. What was the stand-out feminist moment of the season four premiere? Olivia Pope not only discussing how sick she felt accusing another woman of lying about sexual assault, but championing the true victim with all of the passion and vigor you would expect from a feminist like her. Second place goes to Mellie Grant, for that amazing one-liner about equal pay while wearing a bathrobe and eating cereal out of the box. Mellie for president, y'all.
Image: CBS; FOX; ABC; MTV; James Dimmock/FOX