6 Ways to Remove Under-Eye Dark Circles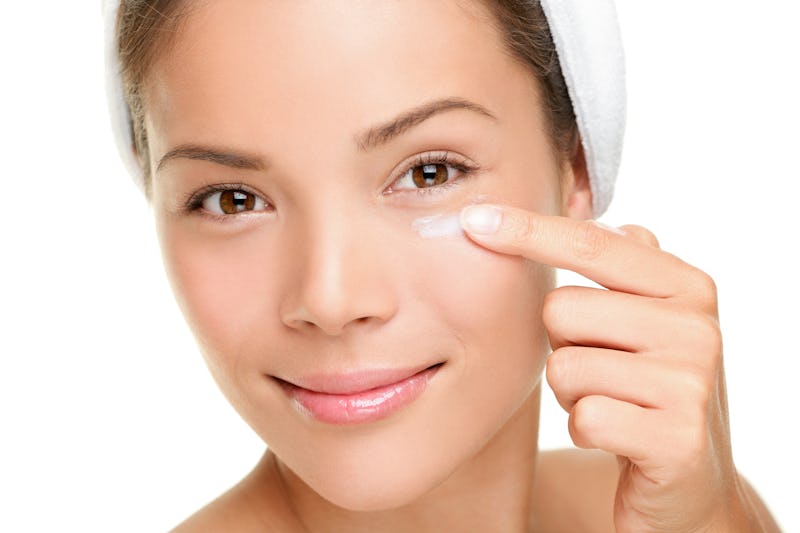 The good news about those dark circles under your eyes is that most of us have them. The bad news is, they're pretty hard to get rid of completely. There's also a bunch of reasons why we get them. "As we age, our skin thins — especially around the eye area," says L.A. esthetician Gina Mari. "It becomes easier, then, to see the blood vessels and the inner works of our tissues in that area." New York City dermatologist Dr. Whitney Bowe finds this to be true for her patients, too. "You see dark circles that are primarily due to dark purple or blue veins showing through thin, transparent skin." She also says they can result from shadows, or "hollows [that] form under the eye as a result of aging or genetics."
Oh yes, they are hereditary, too. Thanks parents! While it's a challenge to remove them completely if your dark under eyes are a genetic factor, there are simple ways to decrease the appearance.
Look for Brightening Ingredients
Just like hyperpigmentation, under-eye circles can be treated with brighteners. "Try an eye cream with ingredients like retinol, niacinamide or vitamin C," Bowe says.
Load Up on Your Greens
Mari says vitamin K is a natural ingredient found in dark, leafy greens — and that's gold for minimizing dark circles under eyes. "It's normal for normal blood clotting [to occur], which is why [vitamin K] is beneficial for under-eye circles because it promotes blood circulation," she says. "It repairs broken capillaries and fades dark spots."
Go for a Natural Approach
Mari also suggests an fragrant herb called arnica. "It has healing properties and is great to treat under-eye darkness." Try a gel version mixed with coconut or olive oil and apply nightly.
Try These Heroes
If you aren't the DIY type, Mari recommends Goldfaden MD's Bright Eyes (which contains vitamin K and arnica, along with other natural ingredients) or iS Clinical's C-Eye Advance, which "diminishes the appearance of under-eye puffiness while brightening up," she says.
Head in to the Salon
If topical treatments aren't enough to bust your under-eye darkness, Mari suggests trying a treatment called microcurrent. "There are probes specifically made for under and around the eye area," she says. "Currents can help stimulate blood circulation and cellular stimulation. It leaves you not only rid of the fine lines, but an even complexion and tone underneath your eyes."
Bring Out the Injectables
If your dark eyes are caused by shadows (as a result of aging), "then dermal fillers can improve their appearance," Bowe says. "Everyone's anatomy is different, but I find that a combination of [dermal filler] Juvederm Voluma to support the cheek just beneath the tear trough, and [dermal filler] Restylane placed directly in the hollow provides a natural and long-lasting correction."
Image: Ariwasabi/Fotolia