'DWTS' Adorably Went 'Back To The Future'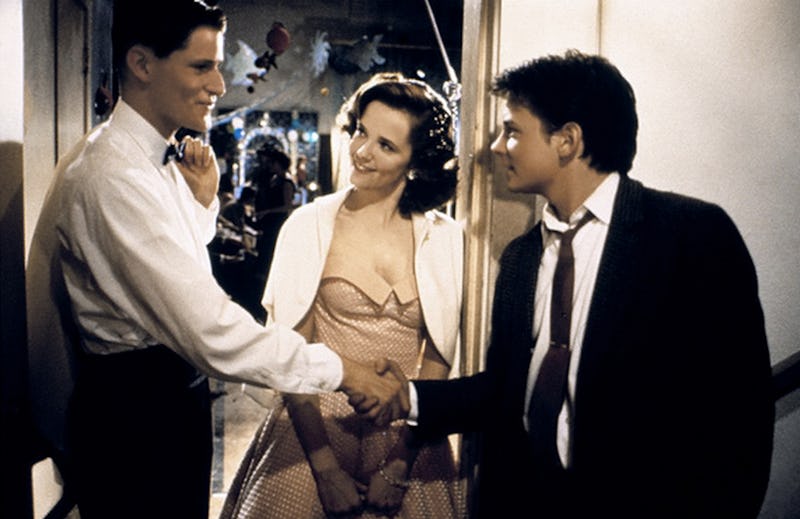 There's nothing quite like traveling back in time. And that's even better when it comes with a side of Marty McFly-style time travel. Thanks to DWTS , Lea Thompson did a Back to the Future performance to "Power of Love" and it was incredible, no matter what the judges said.
Returning to what Thompson said was her favorite role ever, Lorraine McFly, for a little trip down memory lane on movie night. Thompson even donned a DWTS-ified version of her lowcut, light pink prom dress from the movie (remember that little collar along the sweetheart neckline? Perfection.) But of course, being that this is Dancing With The Stars, the bulk of the poofy pink skirt came off by the time the two of them got down to business on a stage that was dressed so much like the "Enchantment Under the Sea," all that was missing was a little Marty McFly tearing it up on stage.
Of course, you'll remember that "Power of Love" by Huey Lewis and News was not from the prom scene in the movie (that would be "Earth Angel" and "Johnny B. Goode"), but as Thompson said, she wanted to do a grown up version of Lorraine. And she certainly did.
That being said, showing up in Marty's car certainly didn't hurt.
DWTS' Prom:
Lorraine McFly's Prom:
And Finally, "The Power of Love" From Back to The Future:
Images: Universal Pictures; ABC (screengrab)