8 Ways to Show Your Support During BCA Month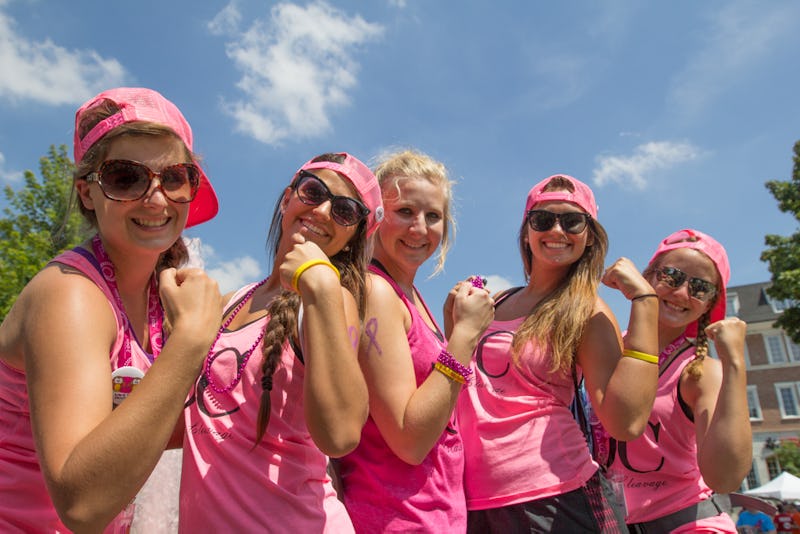 October is Breast Cancer Awareness Month, and showing your support is one of the most wonderful things you can do. Whether you've lost someone to breast cancer, know a breast cancer survivor, or simply want to help, there are many ways that you can get involved with the fight against this horrible disease, which continues to claim thousands of lives each year (the American Cancer Society predicts 40,000 women will have died from breast cancer in 2014 alone).
Women are amazing. You know this. I know this. Everyone (should) know this. Second only to lung cancer, breast cancer is a leading killer when it comes to cancers found in women. That's just not OK, especially when there are ways that we can help lower these statistics. Knowledge is power, my friends, and in the case of breast cancer, it is life-saving power.
So what can you do to help? While donating to research is an obvious choice, it is not the only way to go about showing your support during the month of October. From participating in marathons to wearing pink ribbons to simply spreading the word, there are tons of ways for women (and men!) to get involved this Breast Cancer Awareness Month. Now start thinking pink, ladies, and let's go kick some cancer ass.
1. Register for a Walk or Run
Perhaps the most well-known breast cancer walk is Avon's Walk for Breast Cancer. However, if there aren't any Avon walks taking place in a city near you, don't give up just yet. Susan G. Komen's Race for the Cure offers a 5K marathon in dozens of cities around the United States during the month of October. American Cancer Society's Making Strides Against Breast Cancer 5K is another great event to check out. Whether you're participating as part of a team or going solo, you can raise money for the cause by finding sponsors and paying your entry fee. All funding from these events goes directly to breast cancer research, screenings, and awareness advocacy. Now that's something worth running for.
2. Volunteer for a Campaign, Fundraiser, or Event
Time is money, so donate your time. Awareness campaigns, free screening outlets, fundraising events — the list goes on. You can help out in a group setting by volunteering for one of the Breast Cancer Campaigns's many opportunities, or if you're feeling ambitious, set up your own event to help fundraise for breast cancer awareness. The National Breast Foundation, Inc. offers an awesome online tool for setting up your own ticketed events.
3. Purchase Some Pink
Follow the University of Oregon's lead and start sporting some pink! Purchasing BCA pink products does two great things for the cause. First, it obviously helps raise money for the fight against breast cancer. Second, it helps spread the word about BCA month. I say yes to both those things. (Also, don't think it stops at pink clothing — BCA products range from nail stickers to perfume.)
4. Pin It to End It
I just want to say — the Avon Foundation for Women is so freaking cool. Their new "Pin It to End It" campaign has helped raise $100,000 for outreach and research programs. Post an image of any of your loved ones who have battled breast cancer or is currently fighting the disease, and add the hashtag #pinittoendit. This innovative online campaign has not only helped raise money for the cause, but it continues to raise awareness, which is equally as valuable — so start pinning!
5. Make a Monetary Donation
You may not be able to donate a million dollars. You might not even be able to donate $100 — but that's OK, because every dollar counts, even if it's only just one. Think about it this way: if every U.S. citizen donated one dollar to the cause, that would be OVER $300 million. Imagine what could be done with that kind of funding. So again, every dollar, dime, and penny counts when it comes to finding a cure.
6. Talk About It
It might seem like it's nothing, but spreading the word on self-screenings and Breast Cancer Awareness Month is a huge way to get involved. Whether it's sending out a company-wide email or sharing links on your social media accounts, the more we talk about it, the better. Also, if you know any breast cancer survivors, talk to to them! Ask them to share their stories and voice their thoughts. Let's keep the conversation going!
7. Wear a Pink Ribbon — Anywhere!
Wearing a pink ribbon is a simple way to remind yourself and others that October is Breast Cancer Awareness Month. Whether it's an actual ribbon or a painted-on ribbon, it makes no difference. Get creative with it and see if you can inspire your friends to do the same.
8. Break the Stigma — Men Are Also Susceptible to Breast Cancer
Though its rates are significantly lower than women's, men are susceptible to breast cancer as well. That being said, this is everyone's fight. Encourage the men you know to check themselves for any signs or symptoms of the disease. While less than one percent of breast cancer cases are attributed to men, they still happen, and they still need to be treated. Help break the stigma, and turn breast cancer awareness into a co-ed discussion.
Images: Susan G. Komen, lipstickprints/Flickr; Getty; Pinterest; The Coobie Store