It's OK, We Want to Go To Chilton Too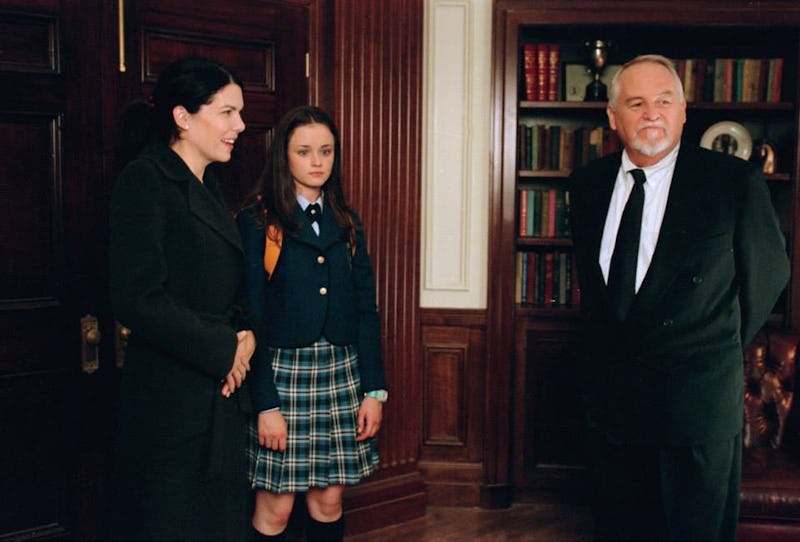 Now that Gilmore Girls is finally on Netflix, you can binge watch — or rewatch — the early aughts' favorite wholesome mother-daughter show from the very beginning. Before all the love triangles, Lorelai and Rory Gilmore were a witty, fast-talking mom and kid pair with big dreams in a small Connecticut town called Stars Hollow. Rory wanted more than anything to attend the prestigious Harvard University, and the first step in that journey was Gilmore Girls ' Chilton school, which we all hoped was real.
Sure, she started out as just a sophomore at the lackluster Stars Hollow High, but hey, the best and the brightest students eventually rise to the top of the class, right? And that's exactly what kickstarts the series in the pilot episode — Rory gets accepted into the prestigious and exclusive Ivy League feeder school, Chilton Preparatory Academy, where dreams of Harvard can most definitely come true.
But I hate to inform you Rory wannabes out there that while there are several schools around the United States that bear the name Chilton, they're not the same one where Chad Michael Murray brooded in the halls as Tristan DuGrey and Paris Geller played queen bee to Madeline and Louise. Chilton is actually based on a real Connecticut prep school named Choate Rosemary Hall in Wallingford and it's one of the leading private boarding schools in the U.S. Choate boasts an impressive list alums, including President John F. Kennedy, playwright Edward Albee, and actress Glenn Close. But hey, Chilton has a pretty solid list of alumni as well, despite being fictional and all.
Rory, Paris and Co. graduated from Chilton's hollowed halls and hung up their plaid-skirt uniforms for good back in 2003 — can you believe it? So I had to wonder: What would they all be up to now?
Rory Gilmore, Foreign Correspondent
Rory had been gunning for a career in journalism as long as we've known her — writing for Chilton's newspaper The Franklin to becoming editor-in-chief of the Yale Daily News. In the Gilmore Girls series finale, Rory departed Stars Hollow to cover Barrack Obama's then-presidential campaign in 2007 for an online magazine. Good move, Rory.
I'd like to think our Gilmore Girl Friday has spent an extensive amount of time reporting from the trenches of the White House Press Corps. and has gotten to know the president very well, but then she moved onto traveling the world, just like her idol, foreign correspondent Christiane Amanpour. If there's anything we know about Rory, it's that she can definitely do whatever she puts her mind to — and she's probably got a handsome political operative love interest by her side, too.
Paging Dr. Paris Geller
Although Harvard rejected Paris during her final days at Chilton, Rory's rival did get accepted to Harvard Medical School at the end of the series. I can imagine that Paris' Type-A ways enabled her to completely rock the white coat and dominate the competition in the classroom and all over the hospital. Her bedside manner? Well, that probably still needs some work, but there's no doubt Paris is a damn good doctor. Her Yale boyfriend Doyle promised to follow her wherever she went and I bet he's still doing so.
Madeline and Louise Are On Spring Break Forever
At Chilton, Madeline Lynn and Louise Grant were Paris' minions. Once Paris moved on to the Ivy League, Madeline and Louise were leader-less and aimless. When Paris and Rory bump into their vapid one-time classmates on Spring Break in Florida, Madeline and Louise vow to live the party forever — much like in the movie Spring Breakers. Of course, this duo didn't know better (the James Franco movie wasn't out back then) and they, too, stayed and discovered the dark underbelly of Spring Break in Florida, so much that it scared them back to their respective colleges, where they got their M.R.S. degrees and now mostly just post photos of their babies and cats on Facebook. They vowed never to return to Florida.
Tristan DuGrey, Dishonorably Discharged
Tristan DuGrey made his final appearance at Chilton — and Gilmore Girls — in Season 2, right before his father shipped him off to military school (in reality, Murray was headed to star in One Tree Hill). Tristan, always the rebel, most likely managed to piss off his commanding officer and get kicked out of the academy. From there, I'll venture a guess that he continued to bounce around prestigious New England prep schools, eventually graduating from one, and going on to attend the "party Ivy"—the University of Pennsylvania (hey, Playboy said UPenn is the top party college, not me).
In college, Tristan finds a frat where his attitude and rebellious nature are completely accepted and he parties on. Upon graduation, his rampant risk taking is seen as an asset as a high-flying stockbroker douche on Wall Street. Well, that is until he lost all his money in the recent recession. Tristan's had a tough time lately.
The lesson here? He should've stayed at Chilton.
Images: GilmoreGirls/Facebook (2); voldamorte/Tumblr (3); Giphy