Their First Kiss Had a Big Build Up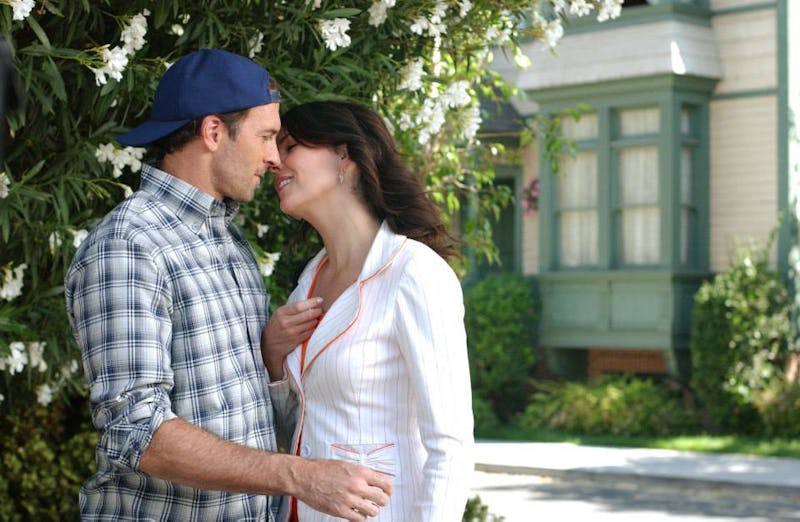 The arrival of Gilmore Girls on Netflix gives way to a certain dilemma: Do you (re)watch the episodes in order from the very beginning or skip around to relive your favorite Lorelai and Rory Gilmore moments? Or you could do a combo of the two — skip around to your favorite moments in the order they happened, because big scenes like Luke and Lorelai's kiss in the Gilmore Girls Season 4 finale "Raincoats and Recipes" are just better experienced after reliving the build up and anticipation. Luke Danes and Lorelai had been doing the will-they-or-won't-they tango all over Stars Hollow for what felt like so long by that point, but it was all the little moments leading up to it that made that awkward, but romantic kiss so worth it.
From the very first episode, we all knew the handsome flannel-wearing diner owner fancied Lorelai, but when when did that teen-mom-done-well realize Luke was the man for her? It took awhile — Lorelai dated other men and got engaged to Max for a bit, while Luke dated other women. But everyone knew they were just wasting time with other love interests. I mean, even Lorelai's uptight mother Emily realized the spark between Luke and Lorelai before they did. It's a journey well-worth reliving via Netflix leading up to the scene those two Stars Hollow townies finally sealed their unrelenting attraction for each other with a kiss. Here are my top five moments you should watch before the big first kiss, if I do say so myself.
The First Time We Meet Them
From the very first stummy "la-la" moments of the pilot episode, Luke and Lorelai's connection was established, as well as the Gilmores' caffeine addiction. Lorelai begs Luke for coffee and he refuses at first, before giving in. (Of course.)
The Santa Burger
In the Season 1 episode "Forgiveness and Stuff," Lorelai wanted a festive meal at the diner and — of course — Luke came through for her with a burger that, well, looked just like Santa. Immediately after, he offered to drive her to the hospital when she got word that her father Richard had a heart attack.
Luke Makes a Chuppah
Right before Lorelai's Season 2 wedding to Max fell apart, Luke accepted that she just might marry the teacher and he gives Lorelai a gorgeous hand-carved chuppah, which is a canopy used during Jewish wedding ceremonies. She loves the gesture, which prompts a discussion between the two of them about their views on marriage and how it should be with the right person. The show gave us a small hint that Max wasn't Lorelai's right guy — the scene ends with Luke and Lorelai standing under the chuppah together.
Lorelai's Dream
Season 3 begins on a random morning when Lorelai is forced to wake up at 7 a.m. by a chorus of alarm clocks, and who's to blame? Luke, who starts the episode cooking bacon in her kitchen for some reason. As the scene progresses, we realize they're not just sharing breakfast together, but a whole life: Lorelai is pregnant with twins. But alas, it was only just Lorelai's REM-cycle induced fantasy.
"Luke Can Waltz"
Luke attends his sister Liz's wedding in the Season 4 episode "Last Week Fights, This Week Tights" — and he brings Lorelai as his date. At the Renaissance Fair-themed wedding, Luke shocks Lorelai by asking her to dance and she begins to see him in a whole new light. She tells Rory later on — with a sly grin — that "Luke can waltz."
Now go on. You're now fully prepared to watch Luke and Lorelai's breathtaking first kiss on Netflix.
Images: GilmoreGirls/Facebook