Netflix Original Movies?!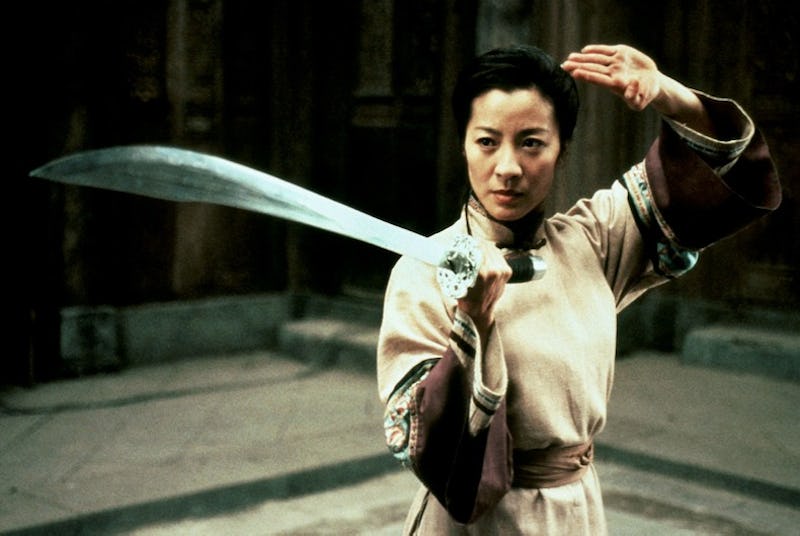 First, The Emmys. soon... the Oscars? Netflix seems to be making its first serious foray into major feature films with a sequel to Crouching Tiger, Hidden Dragon called Crouching Tiger, Hidden Dragon: The Green Legend. The streaming service recently struck a deal with The Weinstein Company to exclusively premiere the movie along with IMAX theaters on Aug. 28, 2015. Unlike the original, Crouching Tiger, Hidden Dragon: Green Legend will not be directed by Ang Lee, but its story will be based on the following book in the original movie's source material, The Crane-Iron Pentalogy by Wang Du Lu.
Creatively, the decision may not make that much sense. So far, Netflix is known for its premium original content with Emmy-winning shows like Orange is the New Black and House of Cards, so premiering the quasi-sequel to a movie released 14 years ago without the acclaimed director of the original doesn't seem like a logical decision content-wise. But as a business decision, it makes a lot more sense: it's a mainstream feature action film with name recognition that's set to simultaneously be shown on the big screen. If there's any indication that Netflix aims to make its way into major motion pictures in the next few years, this is it.
And movie theatre chains are already starting to get scared. One of the largest theatre chains, Regal Cinemas, is already protesting the move by refusing to show Crouching Tiger, Hidden Dragon: The Green Legend in their theatres. Deadline reports that Russ Nunley, Regal's Vice President of Marketing and Communications, has stated that Regal "will not participate in an experiment where you can see the same product on screens varying from three stories tall to 3 inches wide on a smart phone. We believe the choice for truly enjoying a magnificent movie is clear."
With that, the stage has been set for Netflix as a potential competitor in the movie distribution business. Since the streaming service won't charge subscribers extra for the movie, it's a business decision that's bound to delight audiences. But movie theatre chains are already balking at the thought of potentially being made obsolete, and there's bound to be more business showdowns and protests from movie theatres in the near future. Still, even if you're not excited for a Crouching Tiger, Hidden Dragon sequel, Netflix has already produced quality original content with their television shows, so it should be interesting to see what original films they'll bring to the big (or rather, incredibly small) screen next.
Image: Sony Pictures Classics