Ranking the 13 Nights of Halloween Lineup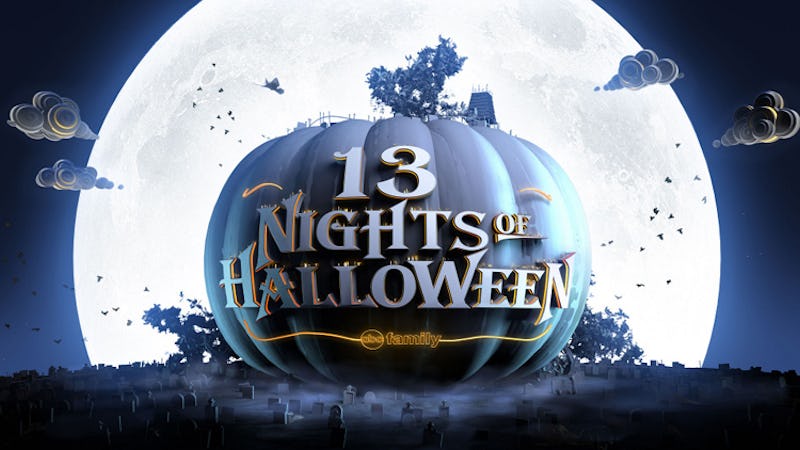 Whether you're a kid who's a little too old to trick or treat or an adult who's a little too boring to go to raging Halloween parties, there's one Halloween tradition that's always there for you: ABC Family's epic 13 Nights of Halloween programming. Every year, ABC Family makes Halloween into a half-month long event by airing an almost two-week block of the best Halloween movies from your childhood...and some random movies they have the rights too that some exec decided were vaguely "scary." This is the same logic that earns the entire Harry Potter franchise a yearly invite to the 25 Days of Christmas block because...they features scenes with snow?
The 2014 13 Nights of Halloween schedule is out now and features 20 Halloween (using that term kind of loosely this year) movies that will be played and replayed in different orders from Sunday October 19 until Halloween night (which is a Friday this year, so if you have anything resembling a life, you might have to set your DVR to catch the finale night). With no Pretty Little Liars Halloween special to anchor the schedule this year, the lineup is peppered with Halloween specials for shows you don't care about (Melissa and Joey) or haven't heard of (Freak Out).
But once you get past the odd not-even-remotely Halloween movie additions and random sitcom specials, 13 Nights of Halloween is still the best game in town for anyone looking for most nostalgic and laughs than blood and gore with their Halloween viewing, and yes, they're showing Hocus Pocus again this year. Check out the list below for a very officially, totally definitive ranking of ABC Family's 2014 Halloween schedule (ranked by the the value they add to a Halloween lineup – The Hunger Games is a fine movie, but I don't understand why I'm expected to watch it in October). WARNING: EXCESSIVE AMOUNTS OF TIM BURTON AHEAD.
20. The Hunger Games
The Hunger Games is great, but it's not a Halloween movie, not by any stretch of the imagination. ABC Family seems to get this, too, since it's airing only once (Monday, October 20 at 8 p.m., if you're interested) and most of the other movies on this list are in an every-other-night rotation.
19. Harry Potter and the Deathly Hallows: Part 1
OK, at least Harry Potter has witches...but still not really a Halloween movie.
18. Harry Potter and the Deathly Hallows: Part 2
Part 2 was more scary, I guess, but still not a Halloween movie.
17. Batman
Being directed by Tim Burton is enough to get any movie into 13 Nights of Halloween (seriously – last year they showed Alice in Wonderland).
16. Teen Wolf
OK, I see what you were going for here, ABC Fam. There are wolves. That's Halloween-y. Again, this is a single-showing movie in the lineup (and at midnight on a Thursday at that), but at least we're getting to movies that try now.
15. Scooby Doo 2: Monsters Unleashed
This is a terrible movie, but kids watch this channel and I guess we have to let ABC Family show some of their favorites, too.
14. Dark Shadows
Oh, look: More Tim Burton. At least this one has vampires.
13. Batman Returns
I'm not going to make fun of this being yet another Tim Burton movie OR comment on the fact that it's a superhero movie and not a Halloween movie. Danny DeVito as the Penguin still gives me nightmares and this is a completely valid entry as a horror movie.
12. The Haunted Mansion
Remember when they made Pirates of the Caribbean movie and we were all "UGH a movie based on a theme park ride? This is going to blow." And then we saw Pirates and Johnny Depp was really good in it and we were collectively like, "OK, maybe we were a little harsh on theme park movies." And THEN a few months later, The Haunted Mansion came out and we realized we were right all along and Pirates was a fluke? Well, now the movie is a Halloween staple, I guess. I'm ranking it above Batman Returns because it doesn't give me nightmares AND it's a very legitimate Halloween movie, which marks a turning point in this list.
11. Corpse Bride
Tim Burton presents: This entire list. Corpse Bride is OK, but it marks the beginning of the Tim Burton-y phase of Tim Burton's career. You know, that time (we're still in it) when Tim Burton was trying too hard to be Tim Burton. But hey, there are zombies and ghosts and Gothic outfits so we'll go with it in October only.
10. ParaNorman
ParaNorman has that Burton-y vibe, but without trying too hard. Plus, it's funny. Actually funny.
9. The Addams Family
Worth it just for Christina Ricci nailing the Wednesday Addams creep vibes.
8. Poltergeist
Playing one night (erm, afternoon - it airs at 2 p.m. on Halloween) only, Poltergeist is probably the only legitimate horror movie ABC Family is playing this year. Actual horror in the 13 Nights of Halloween lineup? I don't know if I can handle it. I'm a wuss. But props to ABC Fam for mixing it up and trying something new.
7. Coraline
Equal parts funny and creepy, with a sassy heroine to boot? Yes please.
6. Monsters Inc.
Yeah, I've been complaining about not-Halloween movies this whole list and now I'm putting one near the top, but I can't help it. Monsters Inc. is fabulous and, hey, monsters are super Halloween-y. I'll never complain about a chance to watch this movie.
5. Addams Family Values
I'm ranking this one higher than the original because Joan Cusack kills it as the serial killer, gold digger who marries Uncle Fester and meets her match in the Addams family. Plus, Wednesday at camp is classic.
4. Casper
It's kind of amazing with all the Tim Burton and all the Christina Ricci in this list that there's no overlap, but Sleepy Hollow must have been a little much for the ABC Family execs. Casper is even better, especially if you're looking for nostalgic laughs (note: You might only laugh if you loved Casper as a kid).
3. Beetlejuice
Of all the creepy/funny movies on this list, Beetlejuice probably achieves the balance best. It's from the Golden Era of Tim Burton and it would actually be hugely disappointing if ABC Family didn't include it in 13 Nights of Halloween. It's a staple.
2. The Nightmare Before Christmas
Speaking of 13 Nights of Halloween staples from the mind of Tim Burton, The Nightmare Before Christmas is back in the lineup this year and playing almost continuously for the first half of the schedule.
1. Hocus Pocus
It's just not a 90s kid Halloween without a little Hocus Pocus. You can catch this classic on October 25 and 26.
Image: ABC Family