18 Celebs Who Guest Starred On Their Significant Other's TV Show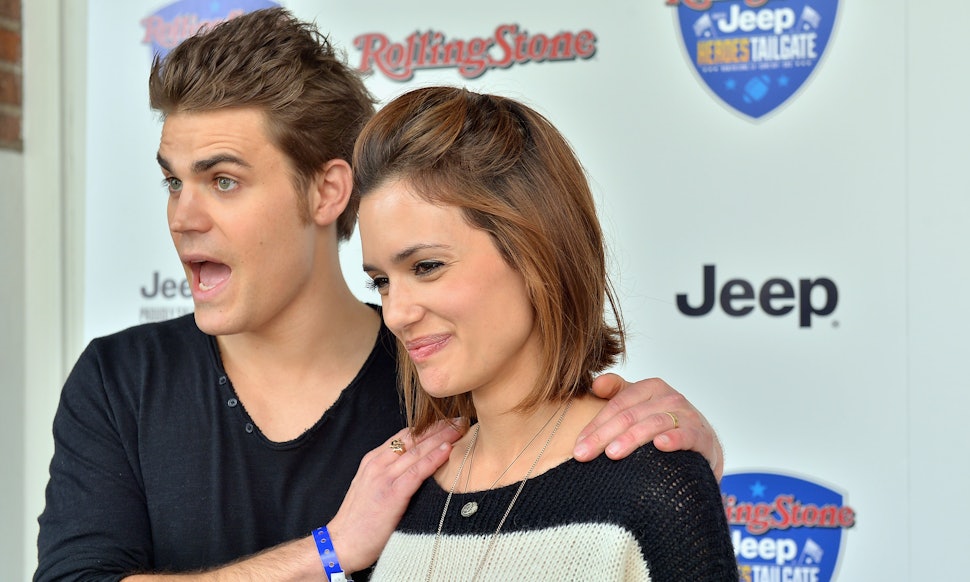 Gustavo Caballero/Getty Images Entertainment/Getty Images
Lots of co-stars wind up dating the people they share a screen with, but there are plenty of times when the exact opposite happens. On occasion, television stars will get to share the screen with their current significant other when they are brought onto the show for a guest spot or, if they're lucky, a longer recurring role. So what guest appearances by a TV star's significant other were the most memorable?
Mila Kunis
Kunis joined her fiance Ashton Kutcher (and former That '70s Show co-star) on his CBS sitcom Two and a Half Men.
Image: CBS
Brad Pitt
Back when Pitt was married to Friends star Jennifer Aniston, Pitt guest starred as a high school friend of Ross' who loathed Rachel enough to start the "I Hate Rachel Green" club.
Image: NBC
Will Arnett
Arnett guest starred on his then-wife Amy Poehler's NBC comedy Parks and Recreation, but before that…
Image: NBC
Amy Poehler
Poehler guest starred on Arrested Development and got quickie-married to her then-husband's character Gob.
Lindsay Lohan
The actress guest starred on a 2004 episode of then-boyfriend Wilmer Valderrama's sitcom That '70s Show.
Image: Fox
Alexis Denisof
The Finding Carter star made an appearance on his wife Alyson Hannigan's sitcom How I Met Your Mother as anchorman Sandy.
Image: CBS
David Burtka
Denisof wasn't the only cast member husband to make an appearance on HIMYM. Burtka had a recurring role as Lilly's ex-boyfriend Scooter on the series.
Image: CBS
Tate Donovan
Before Jennifer Aniston married Brad Pitt, she dated Donovan. Donovan had a recurring role as Joshua, Rachel's love interest, on Season 4 of her sitcom Friends.
Image: NBC
David Arquette
Arquette, who was married to Courteney Cox from 1999 to 2013, guest starred on Friends as a love interest of Phoebe… and her twin sister, Ursula.
Image: NBC
Megan Mullally
Nick Offerman's wife Mullally guest starred as Offerman's character's ex-wife, "Tammy 2."
Image: NBC
Talia Balsam
Balsam had a 13-episode arc on Mad Men as Roger Sterling's ex-wife, played by her real-life husband John Slattery.
Image: AMC
Jacinda Barrett
Barrett had a recurring role as the love interest to her husband Gabriel Macht's character on USA's lawyer drama Suits.
Image: USA Network
William H. Macy
Macy had a six-episode arc as Sam Donovan on his wife Felicity Huffman's series Sports Night.
Image: ABC
David Arquette (Again)
Courteney Cox's then-husband Arquette had a guest role on the third season of Cougar Town. Arquette is also one of the executive producers of the TBS series.
Image: TBS
Nick Jonas
In 2007, Nick Jonas and his brothers Joe and Kevin guest starred on his then-girlfriend Miley Cyrus' Disney Channel sitcom Hannah Montana.
Torrey Devitto
DeVitto guest starred on her then-husband Paul Wesley's CW series The Vampire Diaries as Dr. Meredith Fell. Wesley and DeVitto split in 2013 after two years of marriage, right around the same time Meredith's arc came to a close.
Image: The CW
Matt Prokop
Prokop guest starred on the Disneyland episode of his then-girlfriend Sarah Hyland's ABC sitcom Modern Family. The couple recently split amongst allegations of abuse.
Tom Arnold
Arnold's time on Roseanne Barr's sitcom Roseanne actually launched his acting career. The TV writer guest starred on his then-wife Barr's sitcom for 20 episodes from 1989 to 1993 as Arnie Thomas.