Ebola Victim Was Around Children While Infected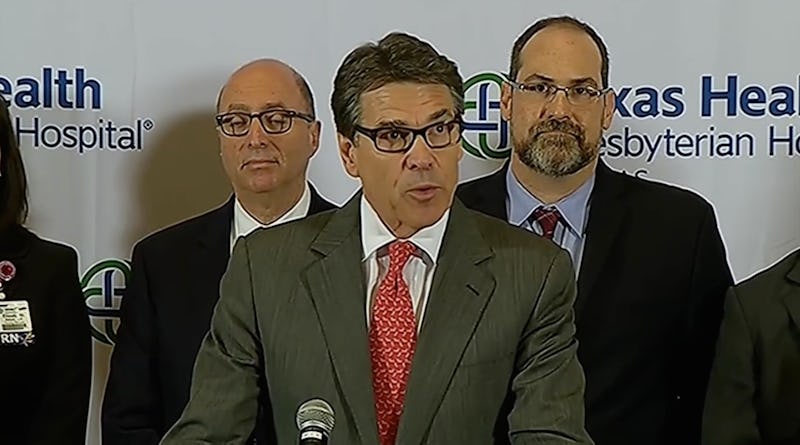 On Wednesday, Texas governor Rick Perry held an Ebola press conference at the hospital treating the first victim diagnosed inside the U.S., hoping to soothe fears about the first appearance of the highly lethal virus stateside. In doing so, Perry offered a concerning new insight into the situation: the Ebola-stricken man apparently did have contact with five school-age children, from elementary to high school, before landing in treatment. This will likely stoke the worst fears of parents all over Texas, but at present, none of the five are reported to be experiencing symptoms.
Perry and the medical officials who spoke at the conference were keen to tamp down fears, and it's easy to understand why — the American health-care system and the quality of medical information average citizens have access to makes a widespread outbreak massively less likely than in West Africa. As Perry emphasized, the virus can't be transmitted through the air — it's not like a cold, for example.
Much to the contrary, Ebola is only transferrable through bodily fluid contact with an infected person, so it's theoretically well within the capabilities of U.S. hospitals and the state of Texas to nip this thing in the bud. Indeed, that's what Centers for Disease Control director Tom Frieden said in a press conference Tuesday: "We're stopping it in its tracks in this country."
The bottom line here is that I have no doubt that we will control this importation, or this case of Ebola, so that it does not spread widely in this country. It is certainly possible that someone who had contact with this individual could develop Ebola in the coming weeks. But there is no doubt in my mind that we will stop it here.
Unfortunately, the case hasn't progressed seamlessly thus far. It's possible that the man could've been isolated earlier — staff at the Texas Health Presbyterian hospital initially saw the infected man two days prior to his diagnosis, but didn't recognize it as an Ebola case, and sent him home.
The five children did attend school after the exposure, according to Dallas Independent School District superintendent Mike Miles, though he said none have shown any symptoms yet and thus shouldn't be contagious. Miles did list the four schools they attended, however:
Conrad High School
Dan D. Rogers Elementary
Hotchkiss Elementary School
Tasby Middle School
Dr. Mark Lester spoke at the press conference, claiming that the patient in question had been asked about his travel history — he'd been in Liberia, where the Ebola outbreak is at its deadliest — but that the information, given to a nurse, was not "fully communicated" to the hospital's medical staff.
In short, it's all harrowing and sad. The patient's condition has reportedly been upgraded from critical to serious, so that's good news. But at this point, we're all kind of stuck waiting and watching, wondering whether this is the first example of the U.S. medical system thwarting the spread of Ebola, or whether more Americans may succumb to the disease.
Images: Getty Images