Let's Take A Moment To Appreciate Linda Belcher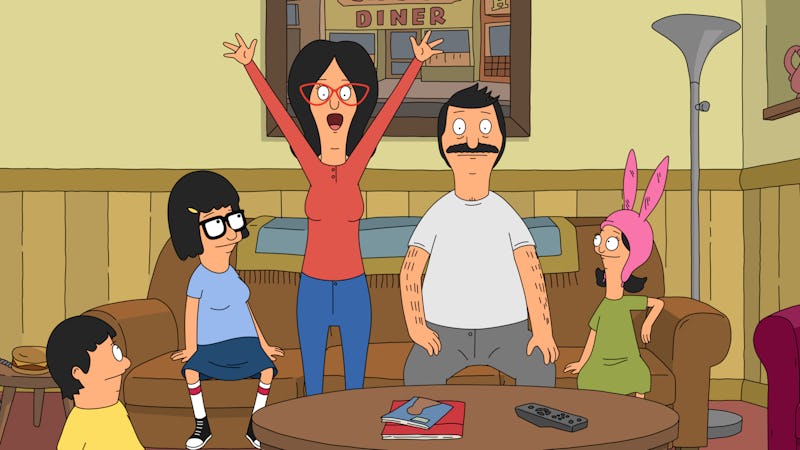 When it comes to TV moms, there isn't a matriarch who loves her kids in a wackier way than Linda Belcher on Bob's Burgers. Linda loves to break out into song, along with get her kids Tina, Gene, and Louise out of — and into — crazy situations. She's as lovable as moms can get and I can't wait to see what kind of mischief and mayhem Linda, husband Bob, and the rest of the Belchers find themselves in Season 5 of Bob's Burgers, premiering Sunday. But what you might not have known is that Linda's voice doesn't come from a woman. Male comedian John Roberts is the voice of Linda Belcher and he's so good you can't even tell he's not a real mom.
Cross-gender voice-acting is nothing new in animation. Comedian Dan Mintz voices eldest daughter Tina Belcher on the show, while sisters Sarah and Laura Silverman play brothers Andy and Ollie Pesto. Most famously, Nancy Cartwright is the voice of Bart Simpson and has been for 25 years. Plus, Roberts became famous on YouTube for his videos of women characters, which amassed more than 20 million hits. The popular videos have featured guest appearances by Debbie Harry and Margaret Cho, along with a voice from Roberts that sounds very much like today's Linda Belcher.
The Inspiration Behind Linda's Voice
You can hear early versions of Roberts' Linda voice in his YouTube videos, where he plays women in the "Jackie and Debbie" series. In an interview with Fox's Good Day New York, Roberts said (in his regular voice) that the female voice is an impression of his mother, Marge. The videos, which earned him a broadband Emmy nod and millions of viewers, also got him many Hollywood meetings, including one with Saturday Night Live exec producer Lorne Michaels.
Being Funny On Stage
Roberts was able to parlay his YouTube success into very funny appearances on Watch What Happens Live and on NBC's Late Night with Jimmy Fallon as Jimmy Fallon's mom, which no doubt had some inspiration from his own mother. He's also a stand-up comedian and performs regularly at various venues and toured nationally with Cho twice.
Toon Town
Being Linda Belcher has opened the door to a few other animation opportunities for Roberts. In the Bob's Burgers crossover episode of FX's Archer, Roberts lent his voice to Linda as she expressed concern and shock about all that crazy violence this new version of Bob brought to the burger joint. Fun fact: The crossover ep happened because actor H. John Benjamin actually does the voices for both Sterling Archer and Bob Belcher.
On Disney Channel's toon Gravity Falls, Roberts provided the voice for Xyler, a character on Dream Boy High, a movie-within-the-cartoon during episodes in Seasons 1 and 2.
So, what would Linda think of how far Roberts has come since his YouTube days?
Right on, Linda. Right on.
Images: Fox; JohnRoberts/Facebook