Best. Macy's Thanksgiving Day Parade Float. EVER.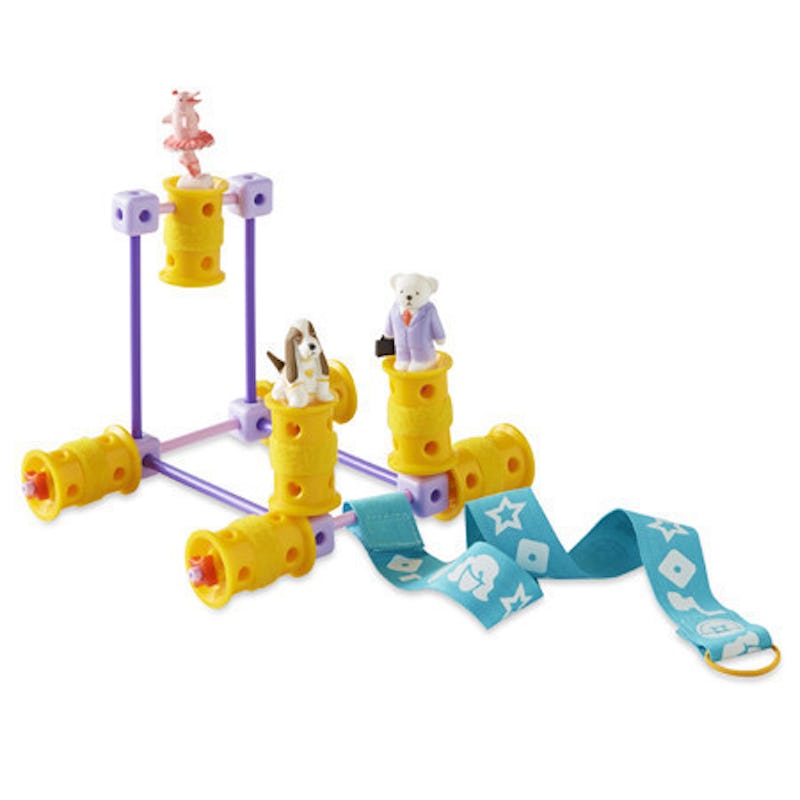 It might seem nuts to start thinking about Thanksgiving when it's not even Halloween yet, but today, there's good reason to do so: I just found out that the girl-powered engineering toy GoldieBlox will have a Macy's Thanksgiving Day Parade float this year. And that? Is awesome. Seriously. I'm so stupidly excited for it that I might just burst.
"I remember when I was a little girl actually watching the Macy's Thanksgiving Day Parade every year, always wishing that I was the beautiful princess waving to the crowds from the top of the float," said GoldieBlox founder and CEO Debbie Sterling in a video announcing the project. "And what's funny now is I've gotten older, I'm so proud that I've built my own float." She continued, "I hope that every girl that watches GoldieBlox in the parade this year gets that excitement about not just wanting to be the princess on the float, but really engineering her own, and that she could build anything."
GoldieBlox first hit the scene in 2012 as a toy geared specifically towards encouraging girls to explore engineering and other STEM fields. Originally a Kickstarter project, it reached its initial funding goal in just five days; by the end of the campaign, it had raised $285,881, and by 2013, it had arrived at Toys R Us, Amazon, and other major retailers. The company has had its ups and downs — their ads featuring girl-built GoldieBlox contraptions have all gone viral, although they also got slapped with a lawsuit for the unauthorized use of the Beastie Boys song "Girls" — but overall, they've been doing terrific things. If I were 10 years old, I'd totally want a toy box full of GoldieBlox. Heck, I'm still kind of tempted to go out and get a set for myself now.
Said Sterling in a press release about the parade float, "Our dream at GoldieBlox is to inspire every girl to reach her full potential, and we definitely like to dream big. The Macy's Thanksgiving Day Parade is an iconic celebration and we're thrilled to join the line-up this November with the first-ever float that is specifically designed to showcase the principles of engineering." She added, "Macy's Parade floats are the ultimate engineering spectacle, and relatable to kids everywhere. We can't wait!"
The GoldieBlox teamed worked with the Macy's Parade Studio to design the float, called the Girl-Powered Spinning Machine. Built out of life-sized GoldieBlox, it features three stages; it's also kid-powered, whose energy will bring the Rube Goldberg-like machine to life. The toy's mascot, Goldie, will be at the helm, along with her dog Nacho and her cat Benjamin Cranklin — and a whole bunch of her friends.
Like Sterling, I've always loved the Macy's Thanksgiving Day Parade — and I can't wait to see what the larger-than-life float looks like when it's finished. Check out Sterling tugging a miniature version of the float around Columbus Circle in the video below, and check out the not-so-blueprints (get it? Because they're super colorful?) for the full-sized version over at TIME.
Images: GoldieBlox; Adventure Time Gifs Database/Tumblr