Lena Dunham + Nasty Gal = Fashion Heaven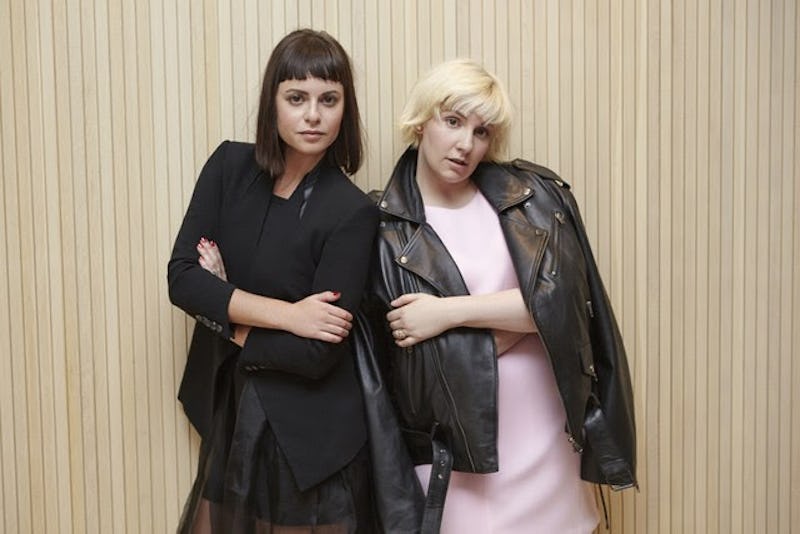 Author, actress, screenwriter/director, and reigning queen of hipsterdom Lena Dunham released her memoir Not That Kind of Girl this week and now she's going on a book tour! The best part? Dunham is exclusively wearing Nasty Gal clothing, styled by CEO and founder Sophia Amoruso, for her appearances in NYC, Boston, Chicago, LA, San Francisco, Seattle and Portland. One of our favorite celebs repping one of our favorite brands? Yes, please!
According to a press release, Dunham and Amoruso partnered on a total of 15 looks for the book tour, a shoppable lookbook, and an exclusive tote for Nasty Gal customers. The results are pretty fab, which is to be expected. Nasty Gal is known for kooky, trendy fashions that are actually affordable, which is great news for those of us interested in emulating Dunham's book tour fashion (which should be everyone, IMO).
So, what can you expect from the looks? Picture bright colors, cheeky graphic tees, and super adorable printed dresses. The clothes make a statement, but they aren't too out-there for us normals to rock, also. I personally want every single statement coat in the line-up — I mean there are two (two!!!!) fake leopard fur jackets. Is Dunham channeling Edie Sedgewick this fall or what?
Yeah, I think she just might be. If Edie Sedgewick liked The Simpsons, that is.
And look at Amoruso holding the cutest dress ever made. Gosh, I just want everything from this lookbook, don't you?
And of course, there's that killer tote. Shop the rest of the outfits here!
Images: Isabella Behravan