11 Awesome Pairs of Tights You Need for Fall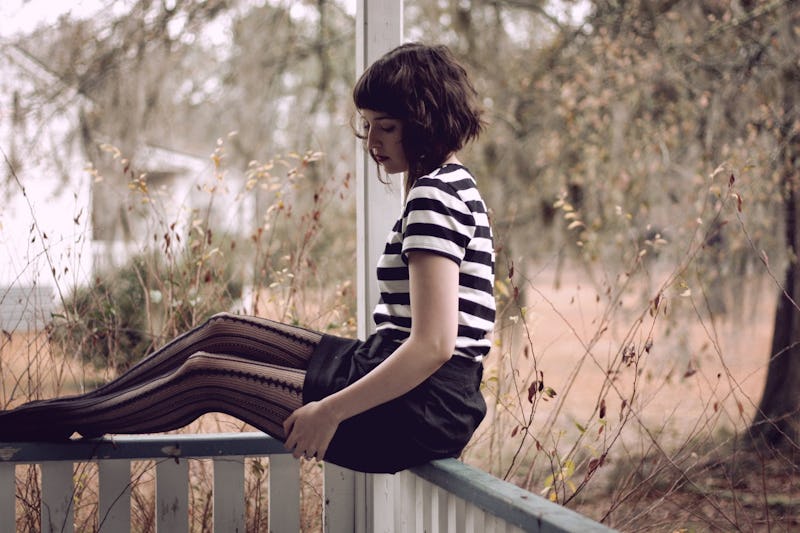 Like many women, I have a love/hate relationship with tights. On the one hand, they sort of feel like they've been vacuum sealed to your thighs. On the other hand, they can be really cute and keep you warm(ish). Now that fall is officially upon us, it's time to consider introducing the legwear back into your life. Sure, we still have a few bare-legged days ahead of us — it's not that cold yet. But the temps are falling and you may want to think about perfecting that tights collection before it's too late.
When it comes to tights, I personally believe the quirkier the better. Sure, plain black has a go-with-everything upside, but fun legwear has the capacity to upgrade your outfit from "sorta chic" to street style worthy. Plus, tights are super affordable! You can re-stock every year, thus breathing new life into your cold-weather wardrobe without spending big bucks. And, frankly, you'll probably need to replace tights most years because of how fragile they are. Unless Taylor Momsen is your style icon, in which case, shred away!
Ready to commit to covering up this season? I have just the selection of next-level legwear to make your embracing of the tight far less painful. Here are the 15 most badass pairs the Internet has to offer!
1. Halloween Ready Tights
The perfect way to add spook-tastic charm to an October outfit (modcloth.com, $14.99).
2. Actually Warm Tights
We're talking fleece-lined. That's how actually warm these tights are (urbanoutfitters.com, $16).
3. Polka-Dotted Tights
Spanx Swiss-Dot Sheer Tights, $13, Saks Fifth Avenue
Sweet little swiss dots add interest to even the simplest pencil skirt or shirtdress.
4. Fake Suspender Tights
These House of Holland suspender tights are everywhere, and for good reason. They're just soo cool (nastygal.com, $30).
5. Thick Plaid Tights
Nothing says fall like some Scotch tape plaid (modcloth.com, $17.99).
6. Fishnet Tights
Fishnets are so sexy and so classic (nordstrom.com, $32).
7. Dinosaur Tights
Because obviously (asos.com, $15.23).
8. Chunky Knitted Tights
A thick knit is as essential for your legs as it is for your sweater collection (legwearloft.com, $35).
9. Houndstooth Tights
A staple that's both edgy and work-appropriate (nordstrom.com, $41.25).
10. Fun Colored Tights
How so totally '80 (macys.com, $3.99)!
11. Overtly Sexy Tights
Those balletic lace-up bow details are so pretty (legwearloft.com, $20).
Images: Vanessa P/Flickr; Courtesy Brands